To:

Eli Lilly, Novo Nordisk, and Sanofi.
Affordable Insulin NOW!

Health Care Voter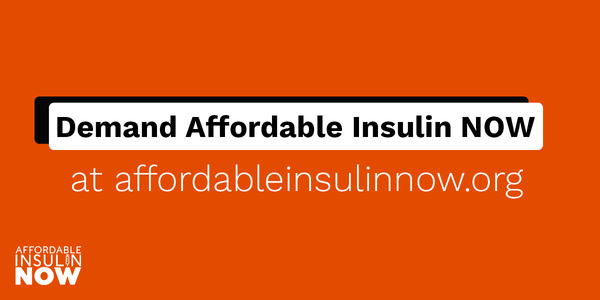 Lower the price of insulin.
Why is this important?
Antavia-Lee Worsham should still be here. Instead, two years ago at the age of just 22 years old, she passed away because she could no longer afford her insulin, a medication that costs companies less than the price of a sandwich to produce. Before Antavia's death, she was covered under her mother's high deductible health plan, but aged off of Children with Medical Handicaps (CMH), a Government funded program secondary insurance that covered all of the medication and equipment that she needed to manage her Type I diabetes. This could at times be as costly as $1000 a month. She began borrowing insulin from her grandfather, and then her sister, before they could no longer afford to share their medication with her. It was after she started rationing her own insulin that one day she died in her home as a consequence of diabetic ketoacidosis also known as DKA.
Each and every day, millions of people across the country depend on insulin to survive. While insulin has been around for decades, pharmaceutical companies are getting away with charging astronomical prices that place insulin out of reach for millions of Americans. Eli Lilly, Novo Nordisk, and Sanofi, three of the nation's largest insulin manufacturers -- are responsible for some of the worst price gouging the industry has seen in recent times, raising their prices by 150 percent in just the last five years. In fact, they are facing a class action lawsuit right now from over 60 plaintiffs who hope the case will expose these companies' deceptive pricing practices and corporate greed.
If you've ever talked to someone who's said they have "the sugars," then you know which community is impacted by diabetes at the most disproportionate rates. According to the U.S. Department of Health, Black American adults are 80% more likely than non-Hispanic white adults to have been diagnosed with diabetes by a physician; 3.5 times more likely to be hospitalized for lower limb amputations; and twice as likely to die from diabetes. While Eli Lilly, Novo Nordisk, and Sanofi continue to make millions of dollars in profits from arbitrary insulin prices that keep going up, it's our aunties & uncles, our grandparents & cousins, and our brothers & sisters who are forced to make the dangerous decision to ration life-saving medication, or to go without it in the first place.
Enough is enough. It is completely within these companies' power to reduce their prices dramatically while still maintaining healthy profits. Yet, at every turn they have denied the fact that they are unnecessarily hiking their own prices, and have refused to comply with the public's demand that they be transparent about their costs of production. That's not business -- it's an abuse of power that needs curbing immediately. The fight for fair, transparent pricing in the insulin industry is the fight for the dignity, health, and safety of the Black community and of our loved ones. Take action to demand that Eli Lilly, Novo Nordisk and Sanofi be transparent about their costs of production and lower their prices now!
Sign our petition and demand Eli Lilly, Novo Nordisk, and Sanofi lower the price of insulin now.