To:

The President of Colombia, Ivan Duque & The President of the USA, Joseph Biden
Stop the violence against Colombian protestors.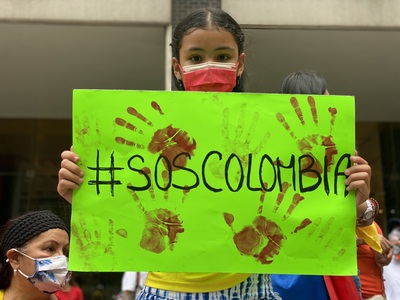 As the entire world watches with horror as Colombians participating in their democracy are met with state violence and police abuse, this letter is an urgent call to action for both the Colombian government as well as the United States government which for decades has funded the militarization of Colombian police forces.
We call on the Colombian government to:
Immediately cease repressing its citizens' right to protest and hold the ESMAD and National Police accountable for the human rights abuses that have been committed against protestors.
Engage in meaningful dialogue with civil society of those communities whose voices have been silenced, ignored, and unmet, including the organizers of the national protests, and commit to addressing structural and systemic reforms including much-needed police reforms.
We call on the U.S. government to:
Speak out publicly in support of Colombians' right to peacefully protest and urge the Colombian government to follow through on dialogues with civil society representatives of the most marginalized communities so together they can develop a plan that results in structural reforms including police reforms.
Withhold any US funds under the Leahy Law to ensure our US taxpayer money is not being used to support the ESMAD and other law enforcement units engaging in human rights abuses.
Why is this important?
We, the undersigned progressive leaders in the U.S., stand in solidarity with the people of Colombia as they risk everything to exercise their international human rights of Freedom of Expression and Freedom of Assembly through massive peaceful protests which began on April 28, 2021. We have witnessed vibrant, creative, and peaceful mobilizations turned into crime scenes. We are outraged as we bear witness to the Colombian National Police engaging in repressive tactics against peaceful protestors when their duty is to keep all residents safe. The Colombian government, especially the Anti-Riot Mobile Squads (Escuadrón Móvil Antidisturbios known as ESMAD), have instead used excessive and disproportionate force against protestors.

These mass mobilizations were triggered by, and are a direct response to, President Duque's failed leadership in addressing the pandemic, and specifically sparked by his recent proposed tax increases on public services, wages, fuel, and other programs that would disproportionately impact the working and middle classes.
As social justice leaders who are speaking out against the unjust impacts of the COVID-19 pandemic, the economic crisis and police violence against Black and Brown communities in the U.S., we cannot remain silent as state violence grips Colombia. The human rights organization – Temblores which has been
tracking police violence in Colombia since 2017 – has documented 3,155 cases of violence by Colombian
law enforcement agents between April 28, 2021 when the protests began and May 26, including 43
murders, 855 injured, and 21 victims of sexual violence, in addition to 1264 protestors arbitrarily
detained.
The Biden Administration has an opportunity to share its vision and strategy behind the American Rescue Plan which represents a historic economic investment in the most marginalized members of our society, including workers and communities of color, and seeks to address economic and racial inequities in the U.S. This can and should be a model for Colombia and other countries in the Western Hemisphere.
It is the responsibility of governments – like the United States and Colombia – to invest in all of their residents' Freedom to Thrive and Freedom to Remain in their home country so they are not forced to migrate due to violence, and/or economic and racial inequalities. Governments living up to these responsibilities will benefit all of us living in the Western Hemisphere.
These protests are just the latest social expression of anger, frustration, and indignation of decades of violence; human rights abuses; economic, racial, and gendered inequality and discrimination that has had especially impacted Indigenous and Afro-descendant communities in Colombia.
We, the signatories to this letter, are social justice leaders in the U.S. If we were carrying out our life's work in Colombia, our lives would be at risk given the long history of social leaders and human rights defenders being killed with impunity. The Institute of Studies for Development and Peace (Instituto de Estudios para el Desarrollo y La Paz o INDEPAZ) has documented 57 cases of social and human rights leaders murdered in 2021 so far.
The civil and human rights crisis in Colombia is complex and long-standing and this latest social expression is an international cry for the respect and dignity of all lives, and for racial, gender, and economic justice and equity.
Al pueblo colombiano, les decimos que los vemos, los escuchamos y los queremos! Nos comprometemos en hacer nuestra parte desde aquí con el gobierno de los EE.UU para que apoye los derechos civiles y humanos de [email protected] [email protected] [email protected]
To the Colombian people, we want you to know that we see you, we hear, and we love you! We commit to doing our part from here in holding the U.S. government accountable to support all Colombians' civil and human rights.
In Solidarity,
Women's Democracy Lab
Working Family Party
United We Dream
Unite Here!
The Revolution Coalition
The Center on Privacy & Technology at Georgetown Law
Sisters of Mercy of the Americas - Justice Team
SEIU 32BJ
SEIU
Rights & Democracy (VT & NH)
Resilience Force
Rainforest Action Network
RAICES
Presente.org
PCUN
Oxfam America
Organizers in the Land of Enchantment (OLÉ)
OneAmerica
NPNA
Northwest Immigrant Rights Project
Native Organizers Alliance
National Network for Immigrant and Refugee Rights
National Korean American Service & Education Consortium (NAKASEC)
MPower Change
Mijente
Make the Road PA
Make the Road New York
LULAC*
LUCHA
Interfaith Council for Peace and Justice
honto88
GCADV
Florida Immigrant Coalition
Fair Immigration Reform Movement (FIRM)
ERA Coalition
Equal Justice Society*
Empower Media
DRUM - Desis Rising Up & Moving
Detroit Action
Corporate Accountability
Community Change
Common Cause
Center for Reproductive Rights
Center for Popular Democracy
Center for Gender & Refugee Studies
CASA
Arkansas United
American Friends Service Committee
Alianza Americas
patrisse marie cullors
Linda Sarsour
Ai-Jen Poo
Opal Tometi
Maurice Mitchell
Marielena Hincapie
Paola Mendoza
Gustavo Torres
Ana Maria Archila
Zahra Billoo
Virginia Kase Solomón
Vanessa Barboni Hallik
Valarie Kaur
Tanya Selvaratnam
Tabitha St. Bernard-Jacobs
Sindy Benavides
Sarah Sophie Flicker
Saket Soni
Natalie Weaver
Natalia Aristizabal Betancur
Murad Awawdeh
Mohamed A Ibrahim
Michael Skolnik
Michael Leon Guerrero
Mark k Tilsen
Mari Rose Taruc
Karina Ruiz De Diaz
Julissa Natzely Arce Raya
José Dante Parra
Heather Rae
Greisa Martínez Rosas
Estefania Puerta
Elizabeth Méndez Berry
Daniel Carrillo
Crystal Boceta
Cristina Jiménez Moreta
Carmen Perez
Ariel Wengroff
Andrea Mercado