To:

NY Attorney General Leticia James
DROP THE CHARGES ON LEXIS FIGUEREO & INVESTIGATE APD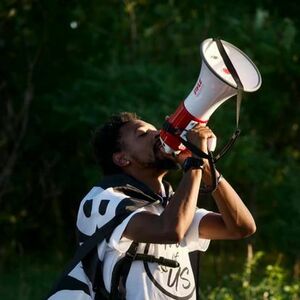 We are petitioning Leticia James to drop all charges on Lexis Figuereo and to investigate the actions that took place at Albany's South Station Police Department from April 14, 2021- April 22, 2021. Lexis' next court date is November 18 at 9:30am, 2021; time is of the essence.
Below is an excerpt from the Center for Law and Justice's statement on Arch Street between April 14 and April 22, 2021.
"Dr. Alice Green and the Center for Law and Justice join in condemning the Albany Police Department's militaristic acts against Black Lives Matter protesters on April 22, 2021….
• On April 14, 2021, Black Lives Matter protestors conducted a peaceful protest in Albany after Daunte Wright died after being shot by police in Brooklyn Center, Minnesota.
• At the conclusion of the protest at APD's South Station, protestors were pepper sprayed and one was injured when Officer Devon Anderson violently snatched her megaphone, causing her to fall. A week later, Police Chief Eric Hawkins excused the behavior of the officer, stating that he had become "agitated" during the protest.
• Calling for the firing of specific officers, protestors set up an encampment outside the South Station and vowed to stay till their demands were met.
• Neither Police Chief Hawkins nor Mayor Sheehan recognized the protestors' requests for a meeting as an opportunity to de-escalate the situation. They denied the request to meet, while publicly giving themselves a pat on the back for respecting the protestors' First Amendment rights.
• During the six-day encampment, both Hawkins and Sheehan assured the protestors, through a liaison, that there would be no forceful removal of protestors.
• That liaison first learned of the impending forceful removal when the APD gave the protestors fifteen minutes to pack up their tents and move on April 22, 2021.
• After fifteen minutes dozens of police officers appeared, carrying batons, riot shields, and zip ties.
• Many officers had covered their badges with black tape. APD General Order No. 2.2.00 requires officers to furnish their name and badge number, "except when the withholding of such information is necessary for the performance of police duties or is authorized by proper authority." Given this equivocal language in APD policy, it is unlikely that any APD officer will be disciplined for covering his/her badge.
• Lined up shoulder to shoulder across Arch Street, officers marched forward in unison ten feet at a time. Several social media videos show officers destroying tents and personal belongings at each ten-foot juncture, and pushing protestors down with riot shields and hitting them with batons. Eight protestors were arrested. One was hospitalized."
(https://drive.google.com/file/d/1148e-yjhL35z1voS_1Cdac9plN-ng5q7/view?fbclid=IwAR3BlNTKz9jvhA7ahTyIe2lXwJZvgyic-XSh13XLHxOykv3QCcuRRtYbgDY)
And please watch the video in this article: https://www.albanyproper.com/dont-gas-me-kathy-video-takes-you-inside-violent-south-station-protest-raid/
Protesters were arrested when the police raided the encampment. However, one activist, Lexis Figuereo was not arrested until several hours later. While waiting for fellow arrested activists to be released from the police station, Lexis left the protest area and walked to his car. While walking to his car on the sidewalk, an unmarked car pulled up next to Lexis, and four officers in plainclothes grabbed Lexis and threw him in the car.
Lex was arrested and charged with two attempted riot charges, obstruction of governmental administration, and unlawful assembly. Instead of the Albany Police being accountable for their actions and suppression of activists, they are trying to stop activists from speaking out. These intimidation tactics have continued; this past Friday, September 3, 2021, Lexis was charged with three attempted assault charges from April 2021. Not only does the timing of this feel suspicious, stacking charges against a Black activist is another means of oppression.
This all is especially egregious watching the reaction (or non-reaction) to Albany students whose partying has included: closing down streets, throwing bottles at police, hitting a police officer with a bottle, damaging property, and leaving trash all over a residential neighborhood. (https://www.timesunion.com/news/article/Huge-college-parties-in-Albany-draw-city-s-16423904.php)
We are calling on Leticia James to drop all charges on Lexis Figuereo immediately and to investigate the actions that took place at Albany's South Station Police Department from April 14, 2021- April 22, 2021. Albany police and officials are enforcing a justice and carceral system that is oozing with white supremacy culture.
Why is this important?
You may ask, "why would the police and DA accuse someone of 7 false charges, and possibly send them to prison, if they did absolutely nothing wrong?" The answer is simple: Lex is an intelligent and articulate Black man who uses his voice, knowledge, and love for all, to hold oppressive systems and people accountable. Lex has consistently showed up for all, and has been a voice for the people. But now he needs your help. Do not let these people punish a person for simply speaking their mind and speaking the truth.
Sign, share, and demand JUSTICE.