To:

Members of the 115th United States Congress
Grant Immediate Emergency Aid to Puerto Rico & Eliminate Cost-Sharing for FEMA Aid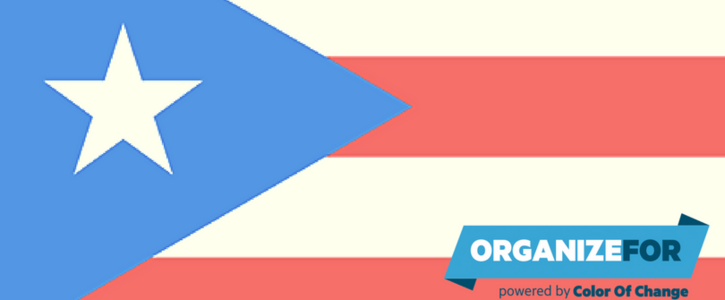 We the people of the Puerto Rican diaspora and other tax-paying citizens of the United States demand that members of Congress provide for the following measures:
1- Provide for a minimum 15 billion dollar package to Puerto Rico, akin to what was granted for Texas and Florida to support state infrastructure and citizens in rebuilding after the catastrophic impact of Harvey and Irma. Senators Nelson and Rubio, Congressman Soto (FL) agree and have also called for the "same level of determination in responding to Hurricane Maria's impact as the federal government did to Hurricanes Harvey and Irma."
2-Eliminate cost-sharing for FEMA aid. The cost-sharing requirement will make it impossible for the economically bankrupt island to access all of the FEMA resources that will address the damages from Hurricane Maria.
3 - Absolve the debt. Any focus on repaying debt in the face of the immediate rebuilding needs will impede necessary growth and attention to humanitarian needs. In the aftermath of Maria, Puerto Rico's road to recovery has moved from long to never-ending unless debtors and insurers are compelled to absorb losses.
4 - Swift repeal of the Puerto Rico Oversight Management and Economic Stability Act (PROMESA) of 2016 and the Financial Management and Oversight Board. Allow for a sovereign Governor to make decisions on behalf of and with the people of Puerto Rico to expedite life-saving and humanitarian rebuilding efforts in the face of the immediate crisis.
5-1- Immediate waiver of the Jones Act which requires all shipping between U.S. ports be done by American-built and American -crewed vessels. The Jones Act is logistically limiting the arrival of life saving medicines, food, and water during this crisis.
Why is this important?
Hurricane Maria struck Puerto Rico on September 20, 2017 , making it the 4th most devastating storm to strike on U.S. territory in history. This island territory is facing months and months of rebuilding for basic infrastructure.
Puerto Ricans are U.S. citizens and must be extended equal aid and support as mainland citizens in the face of catastrophe.
Just prior to Maria, the island declared bankruptcy and faces the largest municipal debt crisis in US history since Detroit, but because of its Commonwealth status, unlike Detroit, or other US municipalities, was denied debt absolution. Specifically, Puerto Rico's government owes $74 billion to bondholders, and an additional $50 billion in pension obligations to teachers and almost all other government employees.
Since Puerto Rico is not sovereign and cannot restructure with the World Bank/IMF this small island has no chance at correcting the generational economic crisis it is in. Our legislators to reprioritize the needs of this island territory, home to 3.5 million Americans and absolve the debt.
This pre-Maria economic situation will complicate rebuilding and needs to be considered as a pre-requisite for effective rebuilding of infrastructure. Otherwise, we are just kicking the can down the road. As in the example of Detroit, having an appointed Board, or manager does not create an opportunity to trim cost or debt, and creates situations like the Flint water crisis.
The FEMA cost-sharing requirements currently in place will INCREASE the current debt and economic difficulty that Puerto Rico carries, and is an unreasonable ask for a Commonwealth whose economy and financial present and future is at this point bankrupt. While the White House has approved federal expenditures to help Puerto Rico (HQ-17-125) during this critical emergency, the aid is in the form of cost-sharing. It is a morally and ethically bankrupt Congress that would allow this type of requirement to be issued from the White House.
A minimum one year waiver of the Jones Act is necessary as it would enable foreign-flagged vessels to move fuel and aid to Puerto Rico, adding to transport options. A waiver will ensure that all options are available to distribute aid to Puerto Rico and keep supplies moving to people in need. The Jones Act is unduly burdensome and ultimately needs to be eliminated.
In addition, many residents are moving from the island for the mainland United States, leaving it with fewer skilled workers to handle the rebuilding and development process. Restructuring debt, and eliminating the PROMESA act and oversight board will allow the Puerto Rican people their right to rebuild with dignity and justice, for the long-haul.
How it will be delivered
We will email signatures and deliver the petition to members of Congress.