To:

Walmart CEO Doug McMillon
I've got Walmart problems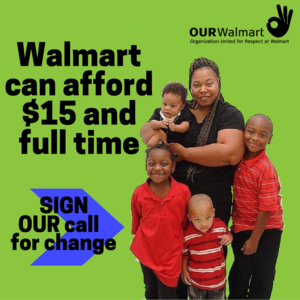 Give Walmart workers $15 and full time hours now.
Why is this important?
My name is Elnora Bates from Zachary, LA. I work for the world's largest retailer but have to work a second job just to get by. That's why next week I'm going to Walmart's headquarters in Bentonville, AR to tell Walmart's CEO and the billionaire Walton heirs who own half the company that I can't support my family on Walmart pay.
I need your support on our call for $15 and full time hours before I show up so that they know that I am not alone and cannot be ignored.
I joined OUR Walmart because I know the power of working together. The way Walmart works, they try to make you feel like you are all alone when you have trouble. But we are all struggling with the same problems across the country. Too many Walmart workers like me still live in poverty despite working for one of the richest companies in the world. I've worked at Walmart for nearly six years, but only earn $10.50 an hour.
Walmart's CEO makes over $9000 an hour and the Waltons are worth about $149 billion. $15 an hour is not too much to ask. But $15 an hour and access to consistent, full time jobs at Walmart would make a huge difference to me and to our communities.
Moving to $15 an hour wouldn't even be a stretch for a company like Walmart. While it would mean $1 billion dollars into the hands of Black workers like myself, it would barely make a dent in Walmart's massive revenue-- 1% of their yearly revenue.
Isn't it about time Walmart stepped up to make a big difference in the lives of people like me who help make the company run?
Best,
Elnora Bates
Zachary, LA
OUR Walmart
How it will be delivered
I'm going to deliver these petitions in person at the Walmart shareholder's meeting in Bentonville, Arkansas on June 3rd, 2016.