To:

Don Bowman of the Bowman Development Corporation
#RestorePottstown: Preserve our Homes, Culture and History!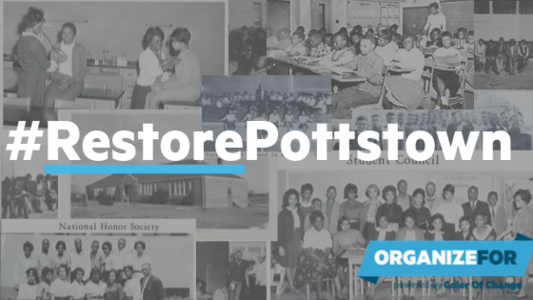 1. Provide the community funds to restore the original four buildings that encompassed the Torrence-Lytle High School (formerly Huntersville Colored School) to be used as a community center for the community.
2. Affordable housing provided to Pottstown residents who have been and will be displaced
Why is this important?
Pottstown, a 110 year old rural, historically Black working class is located two blocks from the original slave quarters in Huntersville, NC. Two multi-million dollar corporations, Bowman Development Group and Griffin Brothers C & D Reclamation, have made their fortunes exploiting the land and community members of Pottstown. The community has had enough! We are calling both corporations to divest from harmful practices and invest in a historic landmark.
Forty years ago, the Griffin family (of Griffin Brothers C & D Reclaimation) began operating a demolition landfill where over 200 dump trucks travel through our small Black community. The name has changed, but the company's impact has remained the same. In 2017, the Huntersville Town Board approved the Griffin Brothers' request for a 40-year extension that will end in 2057. Residents along Holbrooks Road are subjected to fumes from the trucks and the harmful chemicals used within the neighboring reclamation center. In 2000, in an attempt to quiet the grievances of residents living on Holbrooks Road, the Griffin Brothers created a community HOA, the Holbrooks Road Association, in order to provide annual stipends to .prevent further resident complaints and investigations.
Developer and Partner of the Bowman Development Corp., Don Bowman, created a "new urbanism development" that gentrified a historic community by laying his most recent project's foundation along the streets that once ran through the heart of our rural community. His new development, -- Vermillion/Valencia, a 27 acre village -- was created at the expense of hundreds of rural Pottstown homes, as his quick property grab left countless families with nowhere to go. Pottstown residents adjacent to these newly developed urban homes are concerned that the rise of urbanism will irrevocably alter the culture of their hometown and push them out of their homes.
Pottstown and most of its families have suffered from the effects of both companies who earn millions of dollar each year from the exploitation of a historic community. The profits of these businesses will allow company owners' children to benefit financially from their exploitative practices. But what about OUR children?
Bowman Development Corp. and Griffin Brothers C & D Reclamation have made our community a "commodity" in which to profit from. The majority of Pottstown residents have not received any compensation from the harmful effects of the companies actions. We community of Pottstown deserve to thrive as these companies do! We are calling on Bowman Development Corp. and Griffin Brothers C & D Reclamation to invest Pottstown, not destroy it.
The needs of our community are significant and we are calling on these companies to be good neighbors! We are calling on Bowman Development Corp. and Griffin Brothers C & D Reclamation to make an investment in the existing community's culture and pride. We are calling Bowman Development Corp. and Griffin Brothers C & D Reclamation to provide the necessary funds to renovate our historic Torrence-Lytle High School. This small investment would demonstrate goodwill and prove to community members that they value our beloved Pottstown.
The community of Pottstown is asking YOU to support our demand for an investment in our community's rich culture with the corporate-funded restoration of Torrence-Lytle High School and affordable housing options for displaced familes.
How it will be delivered
In-person to both Bowman Development Corp. and Griffin Brothers C & D Reclamation's corporate offices.