To:

Florida State Board of Education
Demand the Florida State Board of Ed Allow African American Studies to Be Taught in High School!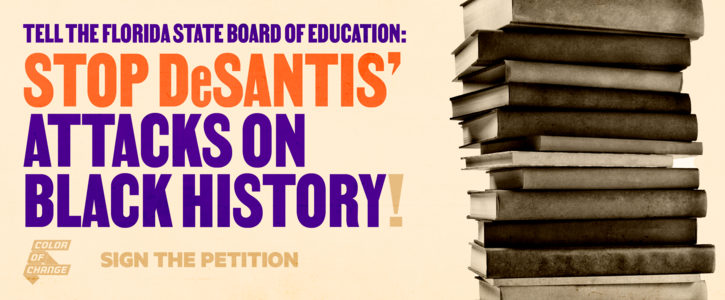 We demand that the Florida State Board of Education:
(1) Override Gov. DeSantis' decision to reject the AP African American Studies course.
(2) Submit an audit highlighting which students are valued in approved curricula and which students are excluded.
(3) Establish a long-term plan for ensuring that all K–12 students are given the opportunity to learn about Black history in the classroom.
Why is this important?
On January 18th, Florida Governor Ron DeSantis rejected the College Board's request to approve an AP African American Studies (AAPS) course, baselessly claiming that it "significantly lacks educational value."
A first-of-its-kind pilot program, AP African American Studies would empower students with extensive knowledge about the contributions and lived experiences of Black people in this country. Lessons would range from those uplifting our legacy in literature and the arts to lessons about how our activism has shaped this country's laws, institutions, and democracy. Not only does AP African American Studies put Black history front and center, but it also creates pathways for Black students to build stronger college applications and even earn university credit.
But before the College Board piloted AP African American Studies, public school curriculums and educational materials had always fallen short. Back in 2021, a Lousiana textbook came under fire after omitting the Black perspective when discussing the Civil War, from sympathizing with white slave owners who could no longer exploit Black people after emancipation to downplaying the brutality of the Civil War and the events that incited it. And following the May 2020 slaying of George Floyd, Black educators and students shared concerns that "the humanity of Blackness" was missing from history classes, from failing to cover communities of free people in Africa who pioneered modern mathematics to minimizing the brutalities that Black people experienced following the civil war (e.g., lynching). However, the College Board saw a gap in the education system at large and did something about it; that's why the AP African American Studies course is invaluable.
Over the past few years, Gov. DeSantis and the state of Florida have led the charge in the national erasure of Black history and culture. In April 2022, Gov. DeSantis signed the "Stop Woke Act" into law, which restricts lessons on Black and LGBTQ+ history; and from July 2021 through June 2022, Florida banned between 500 and 750 books, the second-highest of any state. Now, it wants to rob Black students of the chance to finally see their histories and culture take center stage in an AP course curriculum. It's clear that Fl. Gov. DeSantis has been using Black students as political pawns in his quest to build power and conservative outrage, and the Florida State Board of Education (SBE) has long enabled him.
Sign the petition to demand that the Florida State Board of Education put an end to Gov. DeSantis' attacks on Black history and act in the best interest of Florida public school students!