To:

Nancy Pelosi, Speaker of the United States House of Representatives
Tell Congress to Make Juneteenth a National Holiday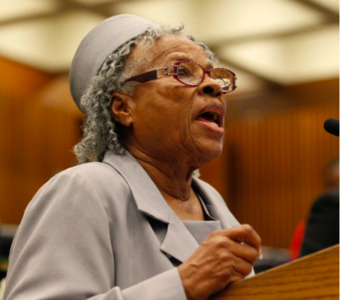 My name is Opal Lee and I am 93 years young from Fort Worth, Texas. In 2016 I began a campaign to walk to Washington, DC in an effort to name Juneteenth a national holiday, while also raising awareness for its significance for Black Americans and American culture. I traveled two and a half miles each to day to symbolize the two and half years that Black Texans waited between when President Lincoln issued the Emancipation Proclamation and the day that message arrived in Galveston where Black people were still enslaved.
My dream is for Juneteenth to be recognized as a national day of observance just like Flag Day. Although Juneteenth originated in Texas, 46 states currently have it as a state day of observance to commemorate the ending of slavery.
I relaunched my campaign this summer, in light of the current climate, to continue raising public awareness and to show that there is support for Juneteenth all across America. In 2012, Former Texas Senator Kay Bailey Hutchinson authored legislation to update US Code 36. This legislation lists Juneteenth as a national day of observance. All we need is for this legislation to be updated and passed into law.
My goal with this petition and my walk to Washington D.C. is to show Congress that I am not alone in my desire to have national recognition of Juneteenth as a day to celebrate "Freedom for All".
Why is this important?
Juneteenth (June 19th) signifies the ending of slavery and the liberation of formerly enslaved Black people in the United States. The holiday was created in remembrance of June 19, 1865, the day that some of the last set of Black enslaved people in Galveston, Texas received the news of their emancipation. Many Black Americans prefer to celebrate Juneteenth over July 4th. Juneteenth is a day for Black people to appreciate our ancestors, remember all they went through and to celebrate the resilience of Black People in America.
Juneteenth also has significance beyond the Black community; it also serves as a unifier. Juneteenth symbolizes the unity of America at a time, just like now, where it appears as if there is little unity to be found. Juneteenth can serve as unifying event because it recognizes that formerly enslaved Africans who made pleas for their freedom, had allies in the fight. Allies at the time included Quakers along the Underground Railroad, abolitionists both Black and white, such as Frederick Douglass and William Lloyd Garrison, and soldiers who gave their lives for the freedom of the formerly enslaved.
Please sign our petition to recognize Juneteenth as a national holiday and share with your networks as well!