To:

Dallas County District Attorney Candidates
Tell DA Candidates: SHOW US YOUR RECEIPTS!!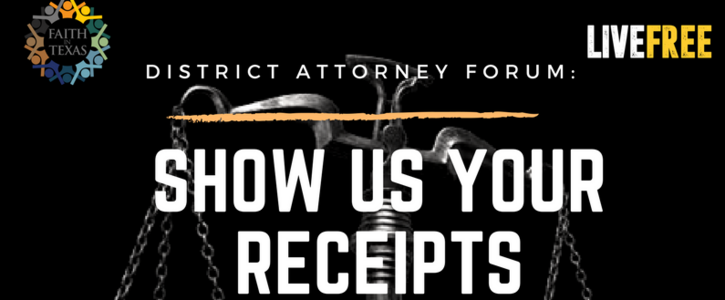 Show us your receipts! If your budget is moral, make it public.
Why is this important?
My name is Brittany and I am emailing you from Dallas, Texas on behalf of Faith in Texas, an organization that moves entire congregations to action through powerful policy campaigns. We are organizing a LIVE FREE DFW campaign to hold our District Attorney (DA) candidates accountable for making our criminal justice system just and fair. That is why we are demanding that all DA candidates SHOW US THEIR RECEIPTS! If their budget platform is moral then they need to make it public! But they need to hear from all Dallas County residents on and offline. Will you join our fight?
As a community, we understand that a budget is a moral document that reflects a District Attorney's priorities. The proposed budgets of our candidates will allow us to see clearly whether their priorities lie on programs that will restore our communities, or merely punish them. Is Dallas County's next DA seeking to fund restorative justice or merely the punishment of Black, Hispanic and poor people? This is why Faith in Texas has issued a clear message to each candidate: If your budget is moral, make it public!
In addition to our petition, we are hosting an in-person action to speak with candidates directly. It is on Sunday, February 25th from 5:00 PM  - 7:00 PM, can you join us? More details below:
EVENT: Faith in Texas District Attorney Forum: Show Us Your Receipts!
DATE & TIME: February 25, 2018 @ 5:00 PM - 7:00 PM
LOCATION: St Luke Community UMC, 5710 E RL Thornton Fwy, Dallas, TX 75223.
At the DA forum, Faith in Texas will present our Criminal Justice priorities and highlight what is at stake for ALL of our communities. You will also experience art, music and powerful messages from directly-impacted people and clergy leaders. Most importantly, Dallas County DA candidates have this opportunity to present their proposed budgets for the District Attorney's office, directly to the public, before the March Primary Election.
LIVE FREE DFW is a campaign of Faith in Texas, working to bring an end to mass incarceration, community violence, and the targeting of black, brown and low-income people by our criminal justice system. Steps towards this include passing robust Fair Chance Hiring and Housing policies, passing policies that end arrests for low-level, non-violent misdemeanors, and scaling-down mass incarceration in the state of Texas. Do you believe in driving down mass incarceration for Black folks in Dallas?