To:

Missouri Governor, Mike Parson
Appoint a special prosecutor to investigate the fatal shooting of Mike Brown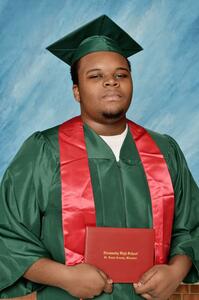 Appoint a special prosecutor to investigate the fatal shooting of my son, Michael Brown. Wesley Bell's election win is a clear mandate from the people of St. Louis to reform the criminal justice system, which first begins with securing justice for my son.
Why is this important?
My name is Lezley McSpadden, the mother of Michael Brown, who was shot and killed by a Ferguson police officer on August 9, 2014. As lawyers, scholars, and commentators around the country have noted at length, my son's killing was not properly investigated and Michael did not get the justice he deserved.
Over the course of three months, my family and I waited as the St. Louis County prosecutor's office presented my son's case to a grand jury before the police investigation was even over. So with less than half the evidence, the St. Louis County Prosecutor still chose to move full speed ahead and present evidence selectively designed to evade any criminal indictment of the killer of my 18-year-old son.
Since then, a provocative and revealing documentary titled 'Stranger Fruit' made its national television debut on Starz Network. "Stranger Fruit" unveils the untold factual account about what really happened to my son and the lack of any legitimate or honest investigation performed by Bob McCulloch and St. Louis County Police Department. My legal team is now asking for Governor Parson to review the case again because of the recent revelations uncovered by the documentary "Stranger Fruit." It reveals both questionable judgment and failure to honestly pursue justice for my son and our family.
In addition to allegations of mishandling the investigation, a lawsuit was also filed by one of the grand jurors detailing challenges and exposing their experiences on the grand jury. The case has been reopened and is set to be heard soon here in Missouri.
To add to the disturbing list of disclosures, Bob McCulloch made an astonishing public admission after the grand jury failed to indict. He actually admitted that he knowingly allowed witnesses that he knew were NOT telling the truth to testify before the grand jury! In this case, you don't have to just take my word for it. These egregious revelations have now come to light and the people of St. Louis County deserve to see equitable systemic practices in the criminal justice system as much as I need to see justice for my son!
To members of the public, I hope that you will consider signing this petition to re-open the local investigation of my son's case. If you were a parent of a child who went through what Michael went through, you would never stop fighting for his justice. And you would do everything within your reach to ensure that our citizens experience fair treatment and equal justice under the law.
Will you help me continue to fight for justice for my son? Together we can ensure our government reflects the accountability, integrity, and interest of the people they are in place to serve.
With Love,
Lezley McSpadden-Head