To:

Alex Azar, Secretary of Health and Human Services
We Demand Racial Data and Equity in Testing during COVID-19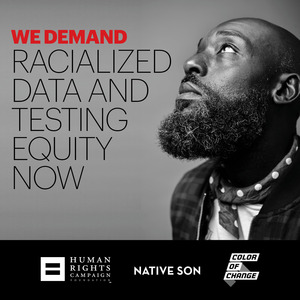 We demand that the federal government collect nationwide demographic data on the impact of COVID-19 on marginalized communities across race, gender, sexual orientation, gender and gender identity socioeconomic status, and engagement with the criminal legal system, among others.
Why is this important?
In Chicago, Black people make up 70% of the people who have died due to coronavirus despite making up 32% of the population. In Michigan, Black people make up 14% of the population, but represent 40% of all COVID-19 deaths in the state, most of which are in the Detroit metro area. And in New York city, Black people are dying at twice the rate of the total population. These numbers are devastating but not surprising. From disparities in testing and treatment to the realities of implicit bias and an unequal healthcare system, we know that our people are carrying a disproportionate share of the burden of this public health emergency. But without access to nationwide data, we simply cannot measure its impact on the most marginalized members of our communities. In the past few weeks, every one of us knows someone whose family, friends or loved ones has been affected by this crisis. We need a comprehensive picture of what is happening if we are going to be able to come up with solutions to protect ourselves and each other. That's why we are asking you to join us in calling on the federal government to collect nationwide demographic COVID-related data that will help us ensure greater equity in testing and treatment. As leaders committed to intersectional racial justice, Native Son, the Human Rights Campaign and The Body specifically call for the following:

--Consistent and readily accessible publication of anonymized COVID-related racial and demographic data including testing rates, test results, hospitalizations, treatment, and mortality in compliance with existing healthcare privacy laws.
--Development of a comprehensive, standardized data collection and publication protocol across all actors in the virus response including local and state public health departments and private companies providing testing and laboratory services.
--Required comprehensive data collection and reporting for all healthcare system recipients of federal COVID relief funding across an expanded set of demographics including race, ethnicity, sexual orientation, gender identity and expression, socioeconomic status, and engagement with the criminal legal system among others.
--Strong collaboration between the federal government and private testing and laboratory companies to ensure the collection and reporting of comprehensive demographic data in compliance with existing healthcare privacy laws.
Although President Trump and other White House officials have recently acknowledged the racial disparity in COVID-19 deaths, the Centers for Disease Control has failed to provide complete nationwide racial demographic data on the impact of COVID-19. The limited data on race and ethnicity provided by state and local governments is inconsistent and not readily accessible. And there is currently no federal mechanism mandating data collection on other highly marginalized identities, including sexual orientation and gender identity. This means the recorded numbers of COVID-19 cases and deaths in our communities are being vastly underreported. And that means that we are not receiving the relief, testing, and treatment we need.
Public health experts agree that the failure to establish a robust testing protocol during the initial phase of our national response put all Americans at greater risk than necessary of exposure to the virus and severely limited our ability to contain the spread. In Puerto Rico, the reported testing rate is a mere 15 tests per day for every 100,000 people. Now, as the disease caused by the virus claims thousands of lives each day, the compounding effects of structural racism on disease prognosis is starting to come into sharper focus. Until we are given access to data that shows the full impact of this crisis on our communities, we will not be able to coordinate resources to the places and people that need them most. Join us in demanding that the federal government collect nationwide, demographic COVID-19 related data today.