To:

Whitney Museum of Art
Drop Trump's War on Caravan Families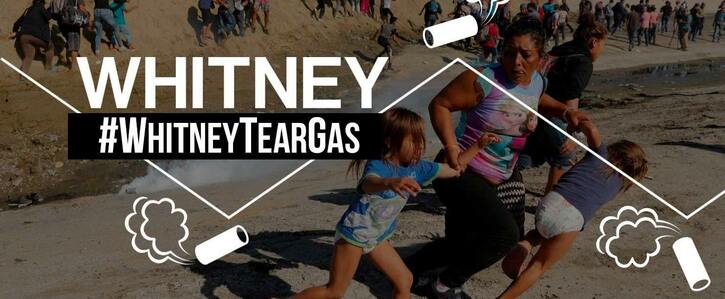 The Whitney Museum of Art must drop Trump's war on caravan families by dropping the manufacturer of Trump's weapons. Vice Chairman, Warren B. Kanders, who owns one these manufacturers, must resign.
Why is this important?
Warren B. Kanders, vice chairman of the Whitney, is the manufacturer of tear gas being used on Central American migrants and their children by Trump and Instantaneous Blast CS grenades that have been used against Standing Rock water protectors and across the US and the world.
The American Academy of Pediatrics, which represents 67​,000 pediatricians, responded to the attacks on asylum seekers: "The use of tear gas on children-including infants and toddlers in diapers-goes against evidence-based recommendations, and threatens their short and long-term health." In one case at the border, forces shot "590 projectiles 'indiscriminately' into a crowd that 'included children, elderly people, disabled people, and pregnant women.'" (1)
At standing rock, the CS grenades "blew the bone out of [a protestor's] arm and all of the arteries and all of the muscle", threatening amputation of an arm. (2) On the Mr. Kanders' own company website, they warn that its contents "can expose you to chemicals including Lead Salts and Hexavalent Chromium, which are known to the State of California to cause cancer, and Lead Salts, which are known to the State of California to cause birth defects or other reproductive harm." (3)
When over 100 Whitney staff risked their jobs to call for Mr. Kander's resignation, he chose to respond with the NRA's defense and claimed he was not not responsible for how his clients use his weapons. (4) We think he is. If there was even minimal concern, Mr Kanders could have stipulated terms of use, like drug companies who successfully sued to keep state governments from using their products for the death penalty. (5) Right now, Mr Kanders can choose to get out of the business of human rights violations and mass incarceration.
Since the 1925 Geneva Protocol and the 1993 Chemical Weapons Convention, the use of tear gas in any armed conflict is prohibited in entirety. And the CS grenades are considered even more dangerous chemical weapons.
Surely, it should also not be used on unarmed families and children seeking to exercise their international right to apply for refuge from danger in their nations of origin. Tear gas is challenged by the ACLU as an unconstitutional, excessive use of force domestically. (6)
Lastly, the name of Mr. Kander's manufacturer is Safariland, Inc. In a time where white Americans are waking up to a long legacy of state violence against their Black and brown neighbors, and we find the justice system as a whole, guilty of holding almost no killers accountable, we find the implicit promotion that policing is like a "safari" to be part of the dehumanizing culture that continues to fuel state violence and the social indifference to it.
We call on Co-Chairmember Susan K. Hess and Thomas E. Tuft as well as President Richard M. DeMartini and Museum Director Adam Weinberg to acknowledge that Mr. Kander's war and oppression profiteering is diametrically opposed to the values of the Whitney Museum. We also ask that any threats, implicit or explicit, towards staff--many of which are directly impacted by border policies--for speaking up be rescinded immediately.
1. American Academy of Pediatrics Statement
https://www.aap.org/en-us/about-the-aap/aap-press-room/Pages/AAP-Statement-in-Response-to-Tear-Gas-Being-Used-Against-Children-at-the-U-S-Southern-Border.aspx
2. Pipeline Protesters Say Police Nearly Blew Off Woman's Arm
https://www.nbcnews.com/storyline/dakota-pipeline-protests/pipeline-protesters-decry-excessive-force-after-woman-s-arm-blown-n687326
3. Chemical Warning
http://www.defense-technology.com/products/chemical-agent-devices/chemical-grenades/non-pyrotechnic/instantaneous-blast/instantaneous-blast-cs-grenade-1012496.html#sz=12&start=28
4. Whitney Vice Chair Responds to Open Letter Calling for Action Against Him
http://www.artnews.com/2018/12/03/not-problem-whitney-vice-chair-responds-open-letter-calling-action/
5. Drug companies don't want to be involved in executions, so they're suing to keep their drugs out
https://www.washingtonpost.com/news/post-nation/wp/2018/08/13/drug-companies-dont-want-to-be-involved-in-executions-so-theyre-suing-to-keep-their-drugs-out/?utm_term=.f10dd0836da4
6. Government Use of Tear Gas Is Illegal in War. It Should Be Illegal Here, Too.
https://www.aclu.org/blog/immigrants-rights/ice-and-border-patrol-abuses/government-use-tear-gas-illegal-war-it-should-be
How it will be delivered
Your names and statements will be hand delivered to the museum during major Andy Warhol exhibit event in a powerful way.