To:

City of Chico
3 years without Justice for Desmond Phillips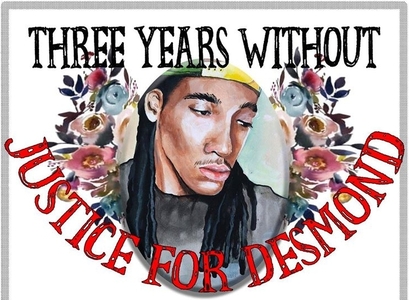 We are so grateful for the nearly 50,000 signatures to fire and charge the officers who shot Desmond Phillips. It has been 3 years since March 17th, 2017 when David Phillips called 911 for medical assistance for his son who was suffering a mental health crisis. The Chico Police, 911 Dispatch and Behavioral Health were all familiar with Desmond because of two prior incidents when Desmond was cooperative. Officers were on the scene for 7 minutes and did not use any crisis intervention techniques before bursting through the door, tasering Desmond, and then immediately shot him dead. David witnessed the officers shoot and kill his son, while his 2 grandsons were in the next room. Because of Desmond's death we learned that Chico police officers were not completing the CA state mandated 8 hour minimum Critical Incident Training, body cameras were not in use, and there was no involvement of mental health professionals. Please join us in our demands as we continue to fight for #JusticeforDesmond.
We demand:
Crisis Intervention Training for all Chico Police officers. The training must meet the standards of the Memphis Model, provide a minimum of 40 hours training for each officer, as well as annual follow-up training.
Implicit Bias training from Fair & Impartial Policing or comparable evidenced based trainers for all officers.
The establishment of a Civilian Oversight Board. This board must be fully independent from CPD, and have the authority to enforce disciplinary action when issues arise with the department or individual officers.
All mental health emergency police responses must also include the involvement of mental health professionals 24/7. The police receive over half of the city budget, some of this money could be used to increase mental health resources.
A police chief that has training in and experience with all the areas named above. A new chief must have a record that shows a compassionate and resource driven approach to addressing the needs of marginalized members of the community; including People of Color, people with mental illness, and poor/homeless people.
Why is this important?