To:

CBS News President Susan Zirinsky, "60 Minutes" segment producers Nichole Marks and David M. Levine, and correspondent Anderson Cooper
Black Women Did The Work. Then They Were Denied The Credit.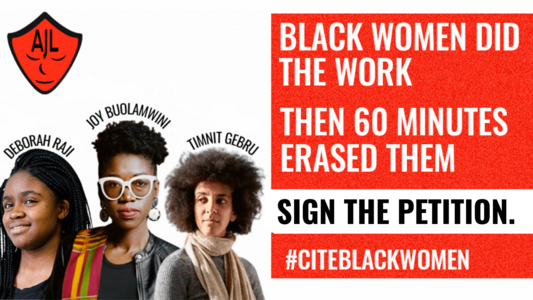 Demand "60 Minutes," CBS and Anderson Cooper immediately apologize to and cite the contributions of Black women scientists who made their recent episode on facial recognition possible.
Reporting on algorithmic bias and discrimination must prioritize and credit the perspective of those doing the work, who are often marginalized voices themselves.
Sign the petition below to tell CBS to #CiteBlackWomen. Erasing Black women from their reporting on algorithmic bias in facial recognition technologies intelligence was not the right move.
Tell CBS erasing and exploiting Black women regarding their reporting on facial recognition will not be ignored.
We demand that CBS News President Susan Zirinsky, "60 Minutes" segment producers Nichole Marks and David M. Levine, and correspondent Anderson Cooper:
1. Publicly apologize for erasure and poor communication during production.
2. Instate a policy of formally crediting all willing sources who inform their productions.
3. Commit to creating a segment that focuses on the Black women leading the research and the work to expose algorithmic harms, by the end of 2021.
Why is this important?
On Sunday, May 16, 2021, an episode of CBS's flagship investigative news program "60 Minutes" included a segment on the racial bias embedded in law enforcement's use of facial recognition technologies. The piece, hosted by Anderson Cooper, showcased the stories of two wrongfully accused Black men, but deliberately excluded the groundbreaking and award-winning work of prominent Black women AI researchers Joy Buolamwini, Dr. Timnit Gebru, and Inioluwa Deborah Raji. The producers also consulted with but then excluded Tawana Petty, who has led organizing work for community control of technology and against police use of AI for surveillance in Detroit for years.
During the segment's pre-production, Algorithmic Justice League founder and foundational algorithmic bias researcher Joy Buolamwini worked with "60 Minutes" producers for many hours, even building a custom demo of how facial recognition technologies analyze faces for correspondent Anderson Cooper. She recommended research to include and subjects to interview, with an emphasis on the story of Robert Williams, a Black man whose false arrest was linked to facial recognition misidentification. Buolamwini even recommended that "60 Minutes" producers speak with Patrick J. Grother at the National Institute of Standards and Technology (NIST) and highlight a 2019 study that he led.
The NIST study specifically cites both Buolamwini's MIT master's thesis and a peer-reviewed publication co-authored by Buolamwini and Raji as "motivation."
An on-camera interview between Anderson Cooper and Buolamwini for the segment was cancelled at the last minute while she was on her way to receive a COVID-19 test for the show.
Ultimately, the segment "60 Minutes" aired featured the NIST study and Grother, a white male scientist, excluding all of the Black women's groundbreaking work. It was an all-too-familiar irony in a segment highlighting how facial recognition software often leaves out Black, Asian, and female faces.
This was no mere oversight. It was yet another example of "60 Minutes" erasing the essential and pioneering contributions of women, namely Black women, in the fields of technology, computer science and artificial intelligence. A similar situation happened two years ago, when a "60 Minutes" report on the tech industry's egregious gender gap cut out interviews with women leaders and instead featured a single male voice on the subject.
"We black women waste so much time and energy trying to fight the erasure of our work, words and ideas."
Karen Attiah, The Washington Post Global Opinions Editor
In response to the negative attention CBS received after news of the erasure was publicized, the network released a hastily written "Editor's Note" about the recent "60 Minutes" episode. The statement claimed that Buolamwini "was an important part of the research we did due to her work in this field," but couldn't be interviewed or have her work specifically cited due to time constraints and the eventual editorial focus of the segment.
This erasure demonstrates the difference between the performative solidarity of corporate communications and the actual practice of media production. A year ago, during the 2020 uprisings, CBS News posted statements declaring "Black Lives Matter. Black Culture Matters. Black Communities Matter." Now, they leave Black labor unacknowledged and Black voices on the cutting room floor.
Buolamwini's own journey to found the Algorithmic Justice League and testify in front of congress, along with the field-shaping work of Black women including Dr. Safiya Noble, Meredith Broussard, Dr. Timnit Gebru, Deborah Raji, and Tranae Moran, is featured in the NAACP Image Award-nominated documentary Coded Bias, directed by Shalini Kantayya and currently streaming on Netflix.
Those reporting on algorithmic bias and discrimination must prioritize the perspective of those doing the work, who are often marginalized voices themselves. This erasure is routine. This is systemic. For centuries, the labor of Black women has been kept in the background -- behind closed doors and out of the public view. Black women and the brilliant, cutting-edge, field-leading and sustaining work they do must not be erased any longer.
CBS must make amends. Join us to demand that "60 Minutes" appropriately credit the researchers who helped them produce their recent segment and insist the program feature the very work and voices it deliberately left out.
*Please note: If you sign the petition, your contact information may be shared with the Algorithmic Justice League.