To:

People of conscience across the country: JOIN us on #BlackFriday
Blackout For Human Rights: The time for action is NOW! #BlackoutBlackFriday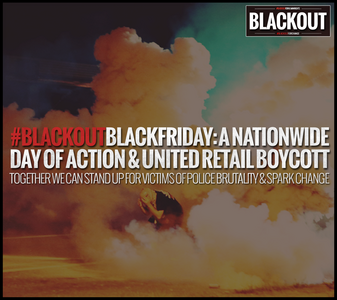 1) Show Our Worth: We ask those who stand with us to refrain from shopping on Black Friday and participate in a nationwide day of action and activism. Our lives are joined by the money we spend as consumers. Today, more than ever, the levers of power – civic, corporate, industrial, capital – are tied to one another and to our economy. The US economy depends on our shopping, especially during the holiday season. But the lives of our brothers and sisters are worth more than the dollars we can save on holiday gifts. Togther, we can make a historic stand against police brutality and spark change. Let's demonstrate our unity. Take this single day off of shopping to #showyourworth and join us in a day of action:
http://www.blackoutforhumanrights.com

2) Attend #BlackoutBlackFriday launch initiatives and solidarity actions: Keep up to date on Blackout launch activities in your area. Innovative programming will take place in urban centers across the country, including Ferguson/St. Louis, New York City, and Los Angeles. Film screenings, staged script readings, teach-ins and civil disobediences will spring up all over the country. You can learn more and join a solidarity event here:
http://fergusonaction.com
http://www.blackoutforhumanrights.com/take-action.html
http://blackfridayprotests.org

3) Stay Involved: This is just a launch. Return to http://www.blackoutforhumanrights.com to find information on your rights, voter registration, civil engagement, service opportunities and Blackout events beyond Thanksgiving 2014. Black Friday is a day when we all come together to show the power that we have to create real change in this country.
Why is this important?
Why is this important?
BLACKOUT FOR HUMAN RIGHTS (Blackout) is a nationwide network of high profile artists, activists and faith leaders, who stand against human rights violations. We've watched in outrage, frustration and sadness as Michael Brown, Akai Gurley, Oscar Grant, Tanisha Anderson, Eric Garner, Ezell Ford, John Crawford, and so many others met their deaths at the hands of police officers. We mourn the loss of life and the absence of justice for Trayvon Martin, Renisha McBride and Jordan Davis, killed by private citizens, in a climate where police action demonstrates this as acceptable. Blackout for Human Rights (Blackout) is our collective decision to meet this devastation with positive energy and empowerment. We must stand up together to fight these injustices and correct the power imbalance that keeps so many of us from having a fair shot.

On Monday, a St. Louis Grand Jury failed to indict police officer Darren Wilson for the killing of Mike Brown. Brave community members across the country took to the streets to organize and express their legitimate moral outrage at the devastating decision and corrupt, discriminatory justice system that failed Brown and fails all Americans—in the worst of ways—every single day.

An affront to any citizen's human rights threatens the liberty of all. So, we participate in one of the most time honored American traditions: dissent. We demand an immediate end to the brutal treatment and inhumane killings of our loved ones; the lives of our friends, our parents and our children have value and should be treated with respect. Our human rights are secured not only by our humanity, but are protected both federally and internationally by the Constitution of the United States of America and the United Nation's Universal Declaration of Human Rights.

Similarly, we stand in solidarity with Walmart workers in demanding that working Americans earn enough to live our lives with dignity. The fights for civil rights and economic justice are two branches of the same tree. As Dr. King once said, "What good is having the right to sit at a lunch counter if you can't afford to buy a hamburger?" Everyday, millions of parents fear for their children, worried that they'll be the next victims of police brutality, while millions of parents must also worry about finding the next meal for their children.

In an effort to stand up against human rights violations in America, we're working with ColorOfChange and other organizations to build a powerful network. We're inspired by the thousands of people across the country who speak truth to power and stand up to demand a better life and treatment that respects our basic humanity. We are making Black Friday (November 28, 2014) a nationwide day of action and retail boycott. Our movement is too powerful to stop at the bare minimum. As a nation, we must demand better, dignified lives for all of us. If enough of us act together, it will change the conversation around human rights and economic justice. We have the power to make a difference and ignite change. Join Blackout for Human Rights on #BlackoutBlackFriday.

Don't spend: take action. Your dollars matter and so does your voice. Will you join us?
https://www.youtube.com/watch?v=9u2gjGuwxIk
https://www.youtube.com/watch?v=Bl_-Jv89vS8