To:

All people of conscience
Boycott United Airlines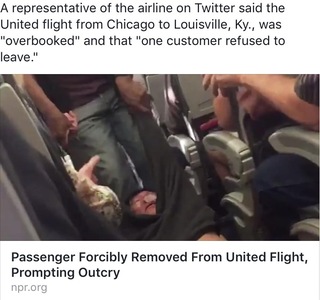 Agree to boycott United Airlines until such time that they agree:
1) to change the policy of abuse of paying customers
2) pay reparations to the man they assaulted on the airplane.
3)reeducation of security and employees of united airlines on the proper treatment of customers.
4) reparations to all customers who witnessed this event.
5) assault charges filed against the security guards
Why is this important?
On Sunday night, United Airlines ordered security guards to remove a Chinese passenger traveling on Flight 3411 from Chicago to Louisville. When passenger David Doa refused to give up his seat to standby passengers, United Airlines security pulled Doa from his seat, punched him unconscious, and dragged his limp body down the plane aisle to eject him from the aircraft.
Moments before Chicago Department of Aviation Security Officers ripped Doa out of his seatbelt, Doa told fellow passengers that he felt that he was selected because he is Chinese. Dao, a doctor flying from Chicago O'Hare airport to Louisville, protested saying that he needed to be on that plane to see his patients the next day.
Join me in calling for a boycott of United Airlines!
While what happened to David Dao may feel like an isolated incident, it is not! It represents a trend in the excessive use of force being used by police, security guards, in this case Chicago Department of Aviation Security Officers, and other departments that are said to keep the public safe.
In addition to asking you to Boycott United Airlines we also demand that United Airlines:
- Pay reparations to David Dao
- Fully reimburse all customers who were on Flight 3411 and had to witness such violent and racially charged treatment of a customer
- Fire all security guards involved
David Dao was punched, knocked unconscious, and then dragged through the aisle creating an absolute violent spectacle. Not only is this wrong it was racist, it's what happens when police and security guards feel like they have the right to use excessive force and when they know that they will not be punished for doing so.
United Airlines must be stopped, join me in boycotting this airline until all of our above stated demands are met!
The response from United Airlines President about this incident was so bizarre that it seems like their might be a more systemic problem here. CEO Oscar Munoz said "This is an upsetting event to all of us here at United. I apologize for having to re-accomodate these customers...". Mr. Dao was forcibly removed from the plane, bloodied, and publicly embarrassed. This is not what "re-accommodating" looks like!
Black folks know all to well the violence that police forces inflict on people, police forces and violence should not be used for corporate profit!
Join me in boycotting United Airlines until they are truly held accountable for this racist and violent action toward David Dao!