To:

Sandy Perez, CA Senate Budget Sub-Committee Secretary
California's COVID-19 Budget Must Support Decarceration!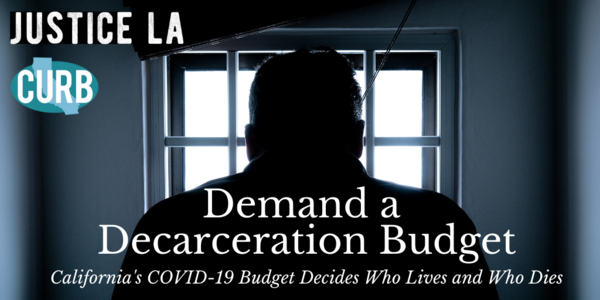 Demand that the Senate Budget Subcommittee on COVID-19 provides the critical funding needed for continued decarceration of CA prisons and jails. Submit your public comment by 5pm on Wednesday April 15th!
Use the template provided and make it your own!
Why is this important?
As the COVID-19 pandemic spreads across California, people caged inside prisons and jails remain at the mercy of our elected officials. Last week, the California Senate formed the Budget Subcommittee on COVID-19 to address the budget needs of this crisis and will be holding their first hearing this Thursday April 16th at 2pm. The budget that California creates over the next few weeks will determine who lives and who dies. In Los Angeles alone there have been 11 confirmed cases of COVID-19 among the jail population, 33 cases among staff, and one custody staff on life support. With over 700 prisoners quarantined in Los Angeles and many remaining to be tested, incarcerated people and their families fear that there are many more cases yet to be reported.
Los Angeles, along with many counties across the state, are taking steps to reduce the jail population in order to slow down the continued spread of the virus. The jail population in LA is at the lowest levels since 1990 - dropping from over 17,000 prisoners to 12,800, largely due to the continued advocacy of groups like JusticeLA.
Now is the time for the State to do its part and help fund jail and prison decarceration efforts by providing funds for:
-- emergency housing for houseless people,
-- transitional housing for people being released from jails and prisons,
-- permanent housing for houseless people and people being released from jails and prisons,
-- community-based treatment for people with mental health, behavioral health and biomedical needs transitioning out of incarceration,
-- pretrial and post release services,
-- post-conviction review and resentencing,
-- alternatives to incarceration to support the release of additional people from jails and prisons, and
-- free phone calls for families reaching their loved ones behind bars.