To:

Governor Ducey, Mayor Gallego, Ice Field Director Lucero, Director of Corrections Shinn, Maricopa County Attorney Adel, Pima County Attorney LaWall, Sheriff Penzone, Phoenix Police Chief Williams
DECARCERATE ARIZONA: CRIMINALIZATION AND INCARCERATION ARE NOT PUBLIC HEALTHCARE SOLUTIONS!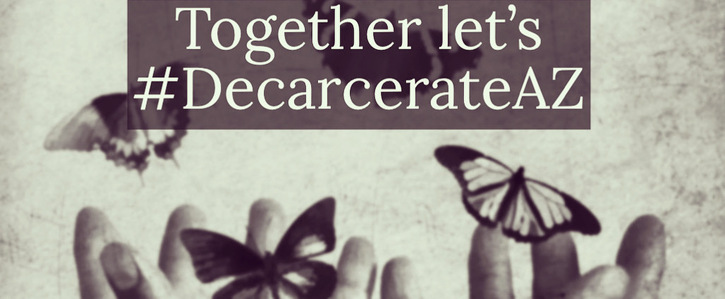 Following Governor Ducey's declaration of a state of emergency on Wednesday, March 11, 2020 due to the increasing number of confirmed COVID-19 cases, community groups in Arizona are demanding a humane and urgent response from federal, state and local officials to prevent and contain the spread of COVID-19 within state prisons, local jails, detention centers, as well as in the communities we live.
INCARCERATION IS NOT A PUBLIC HEALTHCARE SOLUTION
Within state prisons, local jails, and detention centers, we demand:
- Transparency
- Release of vulnerable people
- Safe conditions of confinement
- Quality healthcare
- Access to sufficient and affordable services
Within our communities, LGBTQIA, Black, indigenious, immigrant, young, differently abled, and poor people already face increased criminalization. State and local officials must not abuse public health orders to further criminalize our communities as they work hard to survive this pandemic.
CRIMINALIZATION IS NOT A PUBLIC HEALTH SOLUTION!
ICE, PROSECUTORS, SHERIFF AND POLICE MUST STAND DOWN
The Coronovirus WILL enter the jails, detention centers, and prisons. IT IS YOUR STRICT RESPONSIBILITY to take immediate and decisive action to save lives. We demand action NOW!
Click here to read the full list of demands: http://www.masslibaz.com/decarcerate-arizona-demands-for-humanity-during-covid---19.html
Why is this important?
Thousands of incarcerated people being caged together in small spaces with no real options for quarantine are far more susceptible to the COVID-19 pandemic than most other populations. Due to substandard medical care, incarcerated people suffer disproportionately from chronic health conditions that make them more vulnerable to the virus which will have disastrous effects. COVID-19 outbreaks in prisons and jails are a risk to the entire community. To slow the cycle of people in and out of jail, we must drastically reduce jail and detention center admissions. Less people in jails and detention centers is a definite way to prevent the spread of disease. Public officials must reduce the prison, jail, and detention center's population size to ensure cells are not shared, there are sufficient medical beds for anyone who may need one, and adequate numbers of prison staff to ensure safety for staff, those incarcerated, and visitors. And for those currently in prison, the only public health solution is RELEASE! Arizona cannot afford a failed response to COVID-19!