To:

Florida State Attorney, William Cervone
Demand FL State Attorney Arrest & Charge Gardner Kent Fraser for the murder of DJ Broadus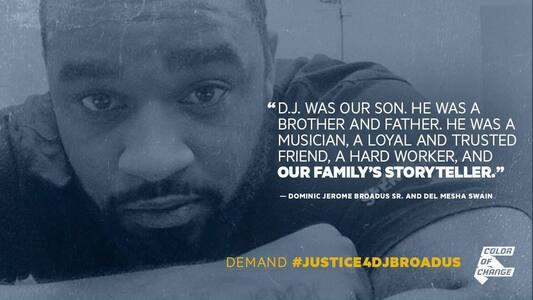 Despite mounting evidence and working under the cloak of transparency and fairness, the Baker County Sheriff's Office (BCSO) and Office of State Attorney-8th Judicial Circuit has not made an arrest in the February 3, 2018 execution-style murder of Dominic Jerome Broadus, II in Macclenny, Florida.
The BCSO deputies arrived on the Southern States Nursery property (owned by recently retired BCSO deputy Ryan T. Fraser) to find DJ at the rear of the home with at least three gunshot wounds to the head. BCSO then "escorted" Gardner Kent Fraser, a former BCSO employee and the son of fired Jacksonville Sheriff's Office and retired BCSO deputy Ryan Fraser, to their headquarters for questioning. BCSO handed the investigation over to the Florida Department of Law Enforcement (FDLE) later that night.
The grieving family needs your support to demand that the Office of State Attorney - 8th Judicial Circuit:
1. Instruct that Florida Department of Law Enforcement make an immediate arrest and charge Gardner K. Fraser for the execution of Dominic Jerome Broadus, II.
2. Release the State Medical Examiner's complete autopsy report to the family's independent pathologist so they can complete their analysis.
3. Explain why Gardner K. Fraser has been allowed to roam free for over three weeks without charges for DJ's murder.
4. Petition the FBI's Public Corruption division to conduct an immediate investigation into Baker County Sheriff's Office as it relates to procurement of evidence and nepotism within this law enforcement agency.
Support the family financially to cover legal fees here- https://www.youcaring.com/dominicbroadussr-1093068
Why is this important?
Once again, our community in Macclenny, FL is reeling from another loss of Black life. Dominic Jerome Broadus II, a father, son, musician and our family's storyteller, met an untimely death at the hands of a racist neighbor. The Florida Department of Law Enforcement (FDLE) continues to disrespect our family with non-answers and heavily redacted statements, further demonstrating a complete lack of regard and interest to thoroughly investigate this case. To this day, my family has not received any information about what happened to DJ and continues to suffer.
In numerous cases, from Trayvon Martin to Keegan Von Roberts, racist killers are allowed to walk free and families are expected to move on without any closure. The persistent denial of justice causes communities to live under a cloud of racist terror. Most fear retaliation from local law enforcement each time a new story of state-sanctioned violence occurs. In spite of it all, the community is coming together to say, no more.
State Attorneys can shift this paradigm and demand accountability from police departments instead of enabling the continued disregard for Black life. Cervone can begin to set a precedent by righting this terrible wrong and bringing justice to my family.