To:

Deaf Community
Demand Hearing Speech Deaf Center to Address Systemic Racism Against Bart Williams & BIPOC Deaf.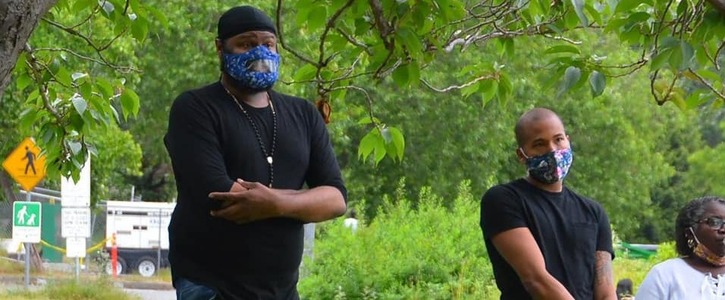 Hello! My name is Chad Ervin. I am here to fight to get Bart Williams back to working at Hearing Speech & Deaf Center (HSDC). He used to work for Nexus Inland Northwest. He was terminated by Nexus. Lindsay Klarman found out and decided to make an offer to him as Director of Interpreting at HSDC. He worked there from November 2017 as Director of Interpreting until November 1, 2018. Lindsay Klarman, Executive Director with HSDC decided to move him to a new position due to Lindsay's failure to train and prepare Bart for the position. Lindsay hired a WHITE person to take over the interpreting director position which a move upset and broke Bart's heart. He feels that Lindsay used him as a token. He struggled to accept a new position that typically does not get created out of the blue. The position created was Director of Community Engagement! He worked and invested a lot in the community to change, empower, and serve HSDC clients. Lindsay Klarman just decided to eliminate his position due to the budget out of all staff in HSDC on June 30, 2020. HSDC opened several new positions after terminating Bart Williams. He had to move back to his hometown in Mississippi. My goal is to have him back to work with HSDC!
The current HSDC board of 14 people are all white and hearing except that two are deaf. There are no BIPOC people on HSDC's board! The current Executive Director Lindsay Klarman is a hearing white woman, who has been involved with HSDC for 6+ years, becoming a gatekeeper blocking necessary changes, blocking any effort to create diversity & addressing systemic racism.
Bart Williams and the Community's demands from the Hearing Speech & Deaf Center (HSDC) & its board:
-Executive Director (ED) Lindsay Klarman to resign for creating a toxic and hostile working environment for BIPOC employees and consumers.
-The next Executive Director (ED) must be a BIPOC Deaf person to ensure equity!
-Establish a committee of BIPOC deaf members from the Seattle Deaf Community to select an interim ED and to conduct the search, screening, and interview for the next official ED.
-Part of the process of interview for the next ED shall be in the form of town hall/community form for Deaf/DeafBlind/Hard of Hearing Community form for Deaf community members to participate and build trust.
-Reinstate Bart William's job and raise his pay due to the trauma that HSDC caused him.
-Update bylaws to include term limits for the board as well as Executive Director position and create a more robust process with public transparency of how the board is elected to diversify the board
-Allocate funding to create programs that cater specifically to BIPOC Community including funds to compensate BIPOC interpreters at community events.
-Hire more BIPOC Interpreters!
- Update employee's handbook with a policy about anti-bias
-Require Human Resource, Staff, and board members to go through anti-bias training at least five a year.
-Invent new safe space and tools for staff and clients to report incidents of bias and racism.
-Produce changes to require input from BIPOC community members for all decisions affecting the BIPOC community.
-Hiring more BIPOC, DeafBlind, and LGTBQ advocates, leadership, and board.
-Increase minimum of BIPOC and Deaf board members.
-Get Bart Williams back!
-All updates and changes to bylaws, employee's handbooks, and as demanded above, must be made public for transparency.
Why is this important?