To:

Ohio Attorney General Mike DeWine, Ohio Governor John Kasich, US Attorney Carter M. Stewart, the Department of Justice
Enough! Justice for John Crawford, Tamir Rice, Tanisha Anderson & an end to OH police violence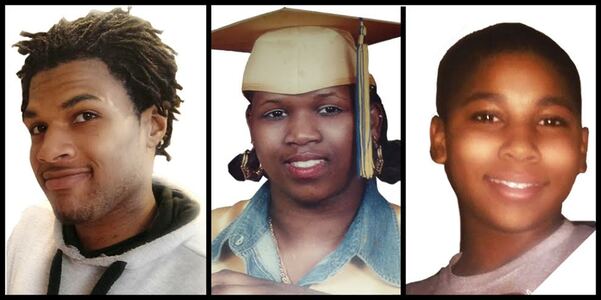 Ohio has a crisis of abusive, discriminatory, and violent policing. As top state and federal justice officials, Attorney General DeWine, US Attorney Stewart, and the Department of Justice have an obligation and responsibility to affirm the value of Black lives, secure justice for John Crawford, Tamir Rice, Tanisha Anderson and systemic reforms to end Ohio's policing crisis.
https://s3.amazonaws.com/s3.colorofchange.org/images/MikeDewine350.jpg
Join me in demanding:
1. Justice; The retrial and arrest of Officer Sean Williams for the killing of John Crawford, prosecuted by a fair and impartial prosecutor. And the arrest and full prosecution of Officer Timothy Loehmann for the killing of Tamir Rice and all officers involved in the killing of Tanisha Anderson.
2. Systemic changes to help end discriminatory and violent policing; Federal criminal charges against Sean Williams and expansion of the Department of Justice's investigation into the police killing of John Crawford to include a thorough investigation of the discriminatory and abusive policing practices of the Beavercreek Police Department.
3. Shut down racist police departments; An end to federal funding to OH police departments with a history of abuse and discrimination. A re-investment of funds into community controlled policing, racial justice training and independent oversight.
4. An end to abusive and racist policing practices; A comprehensive, statewide overhaul of "shoot first" police training, War on Drugs policing tactics, and militarized policing (funding and training) which threatens the lives and security of Black and brown Ohioans every day. Mandated comprehensive training on implicit bias around race, class, and mental health.
5. Community controlled policing. Support for a statewide civilian review board led by community members most impacted by Ohio's discriminatory police violence, with strong and enforceable power to control the policing budget, review police misconduct complaints and hold officers fully accountable.
6. Public, transparent and accountable policing. A public, statewide database on police shootings, excessive force, misconduct complaints, traffic and pedestrian stops, arrests, broken down by race and other demographic data, with key privacy protections, the exclusion of personally identifying factors and information and deportation immunity for civilians, and a registry for killer cops.
Why is this important?
Ohio elected officials need to send a message that they believe #BlackLivesMatter. After the tragic deaths of John Crawford III, Tanisha Anderson, and Tamir Rice here in our state, Attorney General Mike Dewine's silence has sent a message that police officers can kill black people with impunity in Ohio.
John Crawford III was killed by Officer Sean Williams .36 seconds after seeing him with a toy gun that he picked up from the shelf at a Walmart in Beavercreek, Ohio. His last words were "it's not real."1 Not only was Sean Williams not indicted, Ohio Attorney General Mike Dewine failed to act and change this brutal shoot-first protocol and just a few months later, a 12 year old boy named Tamir Rice was killed by Cleveland Police in a similar situation.
Will you join us to help build power behind structural changes to Ohio's political system to help end militarized, discriminatory police violence?
In a harrowing video, with haunting similarities to the killing of John Crawford, Cleveland police officer Timothy Loehmann fatally shot 12-year-old Tamir as he played in the playground in front of his house with a BB gun and then told his mother to "calm down" as she tried to reach her son. (2) It was also the Cleveland Police who killed Ms. Anderson who suffered from schizophrenia. She was threatened with a taser and slammed into the pavement as her brother looked on in horror. (3) Just this week her death was ruled a homicide. (4) If Attorney General Mike DeWine had listened to Black Ohio youth and taken action after John Crawford was killed he could have prevented these tragic deaths at the hands of law enforcement.
Justice for John Crawford, Tamir Rice, and Tanisha Anderson means accountability for their deaths and a fundamental change in the relationship of power between law enforcement and communities. Secret grand juries are held and produce the same outcome time and time again — prosecutors systematically do not prosecute to the full extent of the law when it comes to white officers taking Black lives. We need increased oversight, fair and equal justice for Black and brown communities, and systemic reforms to end discriminatory and abusive policing practices across the state.
Join me in turning up the pressure on Attorney General DeWine and US Attorney Stewart to take immediate action to secure Justice for John Crawford, Tamir Rice, Tanisha Anderson and an end to the policies and police culture that led to these tragic killings.
Enough is enough. The challenges we face are deep seated and we need widespread public pressure to hold our politicians accountable for protecting our communities and taking concrete action to end Ohio's discriminatory policing crisis. Gov. Kasich recently announced a policing task force; but we need more than commissions. We need systemic change to end the killing of Black and brown youth, and justice for those who we have lost.
Outraged and devastated by John Crawford's death, I and countless others led by the Ohio Student Association joined together to stand up proclaim that Black lives matter. We stood vigil, led a 12-mile pilgrimage, and a three-day occupation of the Beavercreek Police station. Since, we have organized ongoing actions to build power and catapult the growing national movement to end anti-Black policing and systemic police brutality; we met with President Obama in December. (5) It will take nothing short of a massive, people-powered movement to transform the role of police in today's society.
Our power in the past few months has been in our perseverance. We refuse to stop, or to go away quietly, as politicians hope we will. Please join us to move our state leaders to action. Together, we have the power to create the transformative change we need to end racist, police brutality.
1. "No Charges in Ohio Police Killing of John Crawford as Wal-Mart Video Contradicts 911 Caller Account," Democracy Now, 09-25-14 http://www.democracynow.org/2014/9/25/no_charges_in_ohio_police_killing
2. "Tamir Rice's mom: "I'm looking for a conviction," CBS News 12-08-14 http://www.cbsnews.com/news/tamir-rice-shooting-mom-of-boy-shot-dead-by-cleveland-cop-looking-for-a-conviction/
3. "Daughter of mentally ill Cleveland woman who died in police custody hopes for change," Cleveland.com 11-18-14 http://www.cleveland.com/metro/index.ssf/2014/11/daughter_of_mentally_ill_cleve.html
4. Tanisha Anderson Death Ruled Homicide; Cleveland Woman Died In Police Custody," Huffington Post 1-02-2015 http://www.huffingtonpost.com/2015/01/02/tanisha-anderson-homicide_n_6407416.html
5. "Breaking: Ferguson activists meet with President Obama to demand an end to police brutality nationwide," Ferguson Action 12-01-2014 http://fergusonaction.com/white-house-meeting/