To:

Facebook
Facebook! Stop Silencing The March For Black Women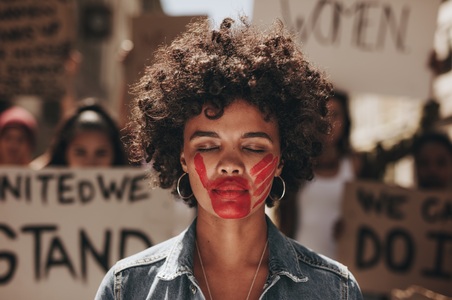 "THE RESISTANCE IS BEING STIFLED" as a brilliant women's advocate said. FB is not allowing anyone to share The March for Black Women event. It is not allowing us to post it. It is not allowing us to boost it, stating they don't boost political events.
TRY IT YOURSELF here at https://www.facebook.com/events/187741818714062/ you'll see. Per the Combahee River Collective and our Feminist/Womanist Foremothers, "the personal is political" yes, but DEFINITELY not in the sense that FB has in its guidelines and the way in which it means and seeks to block our voice.
WE ARE GOING GRASSROOTS (flyers, postcards, door-knocking, boots-on-the-ground,email too) to get the word out to the ones who know our freedom is bound up together.
FOR THE LOVE OF JUSTICE AND FREEDOM, HELP US GET THE WORD OUT ABOUT THE MARCH FOR BLACK WOMEN.
WHAT YOU CAN DO:
SIGN THIS PETITION
CHANGE YOUR PROFILE COVER PHOTOS TO THE MARCH FOR BLACK WOMEN PHOTO.
POST AND PASTE IT WHEREVER ELSE YOU CAN AND TAG THE MARCH FOR BLACK WOMEN.
------------------------------------------------------
Why is this important?
WHAT IS NET NEUTRALITY?
The beautiful (and daunting) thing about the internet, is that, especially as Black women and survivors, we are able to tell write and control our own narratives, develop content that is for us and by us, network, organize, speak out against white supremacist heteronormative patriarchy and build community. Under current Title II protections of net neutrality, companies cannot block access to content. Without this protection all of us are subject to a violation of our First Amendment right to free speech and a continuation of the systematic silencing and invisibilization of our voices, our voices that are challenging the status quo and most of the time interferes with any capitalistic bottom line.

In 2015, the FCC passed net neutrality regulations classifying Internet Service Providers (ISPs) like Comcast, Verizon, and AT&T as common carriers. Common carriers are similar to utility companies or water companies; the internet is a public good. Carriers were prohibited from speeding up, slowing down or blocking content, applications or websites of consumers. Ajit Pai, a former FCC Commissioner, was appointed chair of the Federal Communications Commission (FCC) in January 2017 and Net Neutrality was repealed on June 11, 2018.

How The Loss of Net Neutrality Impacts Black Women and Those at the Margins?

1. ISPs are no longer classified as common carriers. Without this classification, they are free to block content that competes or interferes with the company's bottom line. For example, from 2011 - 2013 AT&T, Sprint and Verizon blocked the usage of Google Wallet because the cohort was developing their own payment app and wanted to stifle competition.

2. FCC Commissioner Mignon Clyburn, the only Black voice on the five-member FCC, said, "Net neutrality is the First Amendment for the internet." A few large companies will now be able to control the market, effectively barring smaller companies (especially those led by Black folks) and innovative disruptive technologies from the internet.

4. Fast and slow lanes can be created. Want to Netflix and chill using Verizon without interruption? There's an extra fee for that. Want to Skype your family in Haiti? Can't do it from the Comcast slow lane, you have to upgrade. Need to do research for a school paper? You can only use certain sites because the fast unlimited lane is too expensive.
We know that any gains that the State and current Administration stand to accomplish from the dissolution of Net Neutrality is going to come at the expense of Black, Indigenous, and Brown folks, especially women - and this is exactly why it is imperative that we fight back.