To:

President Biden
Grant Clemency for Dr. Mutulu Shakur, a father, grandfather, healer, & human rights activist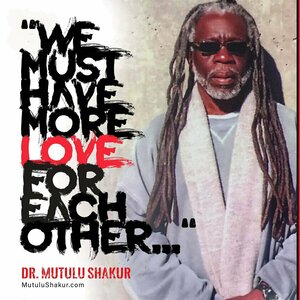 To President Biden:
We urge you to commute the sentence of Dr. Mutulu Shakur, a father, grandfather, healer, and human rights activist who has been in the custody of the Bureau of Prisons (BOP) for over 35 years. Dr. Shakur is now 70 years old, has suffered 2 strokes, glaucoma, and has been battling Stage 3 bone marrow cancer for the last 2 ½ years. Although he received a bone marrow transplant, his cancer is not curable -- he will require continuing treatment and cancer management, until the end of his life.
Why is this important?
Dr. Shakur was sentenced to 60 years in prison because of actions based on his political beliefs. He was targeted and victimized by the now infamous Counter-Intelligence Program (COINTELPRO), as early as 1968. Dr. Shakur comes out of a complex and turbulent moment in American history, when civil unrest fractured our country into pieces. He is recognized as a leading member of the movement for human rights for African Americans.
Dr. Shakur has taken full responsibility for past actions that resulted in loss of life. Today, his beliefs center around the desire for fundamental human rights, a desire for equitable laws and policies, and a world without racial, gender and class divisions. He has been a force for peace and for good during the many years of his incarceration, working against violence in the prisons and in his varied communities. He has developed hospice programs for incarcerated elders, and created educational curriculums for young prisoners entering prison. He has also counseled and mentored countless younger prisoners, including many who are leading positive lives after prison and attribute much of their success to Dr. Shakur's influence.
His release would pose absolutely no threat to public safety. This is supported by BOP's own PATTERN risk assessment tool, which has determined Dr. Shakur is in the lowest possible risk category. Studies by the Department of Justice (DOJ) have also shown that based on Dr. Shakur's age, he poses almost no risk of recidivism. Current and former staff have supported his release on parole, but the US Parole Commission has denied him parole 8 times.
All of Dr. Shakur's co-defendants and co-conspirators convicted as part of this federal conspiracy have been released. This leaves Dr. Shakur as the only person remaining in federal prison for these offenses, all of the white co-conspirators having been released from prison more than twenty years before. His release would correct this disparity and give him a chance to rejoin his family and community.
Mr. President, we urge you to act with compassion, and grant release to Dr. Mutulu Shakur. In this historical moment, millions of people in this country are advocating for Black Lives and there is bipartisan support for the end to mass incarceration. The release of Dr. Shakur, a Black elder who has spent his life advocating for his community, aligns with these goals of racial justice and criminal justice reform.