To:

District Attorney Prosecutorial District #04 Clinton, NC, Ernie Lee
Justice for Anthony Wall

National Black Justice Coalition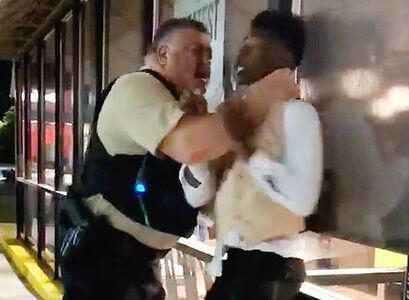 Demands for District Attorney of Warsaw, NC (Has the power to drop charges Against Anthony):
As District Attorney, it is Ernie Lee's responsibility to ensure that people are treated with dignity and respect regardless of their race, sexual orientation, or gender identity. The District Attorney must use fair and bold leadership and not allow for police officers to be above the law. The charges against Anthony Wall must be dropped immediately. The DA has the power to push the Warsaw Police Department to apologize to Anthony along with a fully transparent investigation. What happened to Anthony Wall should not have happened in the first place. Law enforcement officers who conduct themselves with such violence must be held fully accountable.
Why is this important?
On May 8, a 22-year-old Mr. Anthony Wall, a Black man who is openly gay, escorted his younger sister (age 16) to the prom. Later, he took her and her friends to a local Waffle House in Warsaw, NC. After sitting down at a table that had not yet been cleared, staff members got into a heated argument with Mr. Wall and his teenage sister. According to Mr. Wall and witnesses at the scene, Waffle House employees began using offensive racial and homophobic slurs and threatened to inflict physical harm on them. They called him the N-word and f**got and one staff member went so far as to take his shirt off readying himself for a fight. The police were called and when Officer Frank Moss of the Warsaw Police Department arrived on the scene, he began choking Mr. Wall and throwing him against the window. He then violently threw Mr. Wall to the ground and placed him under arrest. The traumatic incident was captured on video with a cell phone and it has since gone viral. The video captures the officer choking and slamming Mr. Wall against the outdoor glass and then onto the pavement.
During the violent exchange, Mr. Wall screamed that he could not breathe and pleaded for his safety with other officers who were on the scene. It is evident from the video footage, that because of what he had just been through, he was fearful for his physical safety and his life. When he was being handcuffed, Mr. Hall requested to be transported with any officer, but not with Officer Moss, who had just brutally assaulted him. His requests were ignored, and not only was he forced to ride with the same officer who inappropriately and unprofessionally handcuffed him, but there was an aggressive police canine accompanying them inside the vehicle. Mr. Wall has since been charged with disorderly conduct and resisting arrest. Eric Sutherland, Warsaw police chief, said that an officer can use physical force on a subject if the person is not complying. Notably, Mr. Wall was not only unarmed but the officer was more than twice his size. The Mayor of Warsaw released a three-and-a-half minute statement in support of Officer Moss, attempting to justify the treatment of Wall during the arrest. We will be closely monitoring the response from not only the Warsaw Police Department but also District Attorney Ernie Lee with the State Bureau of Investigation; the FBI; and the N.C. Department of Justice's Law Enforcement Training and Standards Commission which we understand are also investigating the incident.
As a civil and human rights community, we demand answers and a thorough investigation of what has transpired and that the results of this investigation be made fully available to the public. No human being should endure the type of verbal and physical abuse that Mr. Wall experienced and any charges against him should be dropped immediately.
Please join us in signing this petition to ensure justice for Anthony and Chikesia. Remember none of us are free until all of us are free!