To:

Dr. Paul Noel, Director Healthcare Pennsylvania DOC & Dr. Carl Keldie, Chief Clinical Officer of Correct Care Solutions
Life Saving Treatment Now for Mumia Abu-Jamal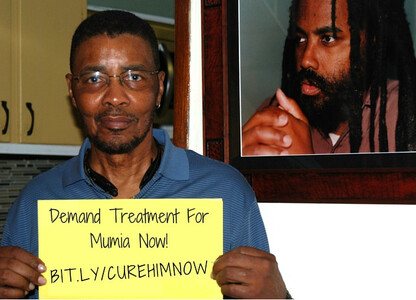 Provide immediate life saving Hepatitis C treatment to Mumia Abu-Jamal.
Why is this important?
My name is Keith Cook, and I am Mumia Abu-Jamal's brother.
My loss, and my pain, have been constant for three decades since my brother has been in prison. He needs to come home, like so many of the men from our community.
Mumia is very ill. I was in the waiting room of the Intensive Care Unit, just feet from where he lay nearly dying, for 28 long hours in Pottsville, PA before the guards would let me see him.
He was chained: his right arm and left leg shacked to the hospital bed.
Did you know that there is absolutely no reason for him to suffer?
There is a cure for Hepatitis C — just one pill a day.
I see my brother. But the Department of Corrections and the courts see "a prisoner". Wasn't Jesus a prisoner? Wasn't Nelson Mandela a prisoner?
Dr. Paul Noel, Director of Health Care for the Pennsylvania Department of Corrections and Dr. Carl J. Keldie Chief Clinical Officer of Correct Care Solutions would let incarcerated people die from this disease.
Yes, Mumia is supported by Amnesty International and Desmond Tutu, among many others. But he is also just like any other Black man in prison.
Together we must stop this shameful practice of denying lifesaving health care to Mumia Abu-Jamal and all prisoners. And we must expose the public health imperative of treating Hepatitis C inside and outside of prisons. As the drug's inventor Michael Sofia notes, "How can you deny people access to a cure?".
Right now, my brother is in the infirmary at SCI Mahanoy, and he is receiving absolutely no treatment.
We are in court, right now with a petition. You can make sure that the U.S. District Court Judge Mariani, and Magistrate Mehalchick see and hear more than the word "prisoner".
We know these folks are our mothers, fathers, and brothers. We know they deserve to be treated with dignity and with respect. We need your voice to be heard. Tell them you know that intentional medical neglect is a violation of the 8th Amendment and their Hippocratic Oath.
Medical apartheid must stop. Please join me.
- Keith Cook, Retired Command Sergeant; Major, US Army; Former Chairman Orange, County School Board; Past President, North Carolina Caucus of Black School Board; District Director, NC NAACP Conference of Branches