To:

DA Jackie Lacey
Los Angeles County District Attorney Jackie Lacey Should Resign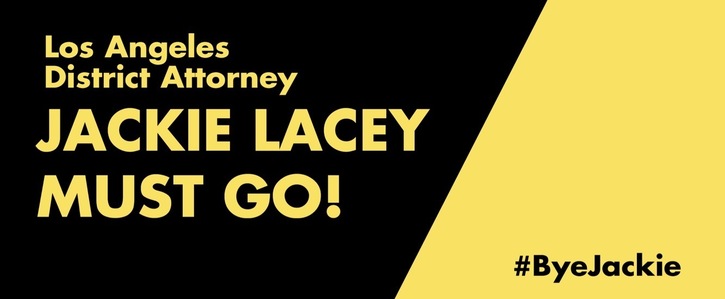 We call on District Attorney Jackie Lacey to immediately resign from her position as District Attorney of the County of Los Angeles.
Why is this important?
Many of the families of those killed by law enforcement in Los Angeles County, Black Lives Matter, White People for Black Lives, Centro CSO, March and Rally, the Southern Christian Leadership Conference, Los Angeles Community Action Network, Stop LAPD Spying Coalition, California for Progress, Youth Justice Coalition, Community Coalition, and 40 additional community organizations, and hundreds of individuals – your constituents – have been rallying outside of your office since October 2017. The call to date has been for you to prosecute the police who kill our people. We have attempted to engage you in dialogue; you have refused and we are regularly met with hostility and disrespect. We are now calling on you to step down for refusing to serve "The People" whom you are duty-bound to represent.
We began our current efforts by delivering a petition signed by more than 10,000 Angelenos demanding that you prosecute the police who kill our people, beginning with the five officers who were dismissed from Inglewood Police Department after killing Kisha Michael and Marquintan Sandlin while they were sleeping in their car. We then requested a community meeting with you, an invitation that you initially tentatively accepted during a December 2017 phone call and then reneged. A townhall was held, to which you were invited, but did not attend (despite confirming availability), on January 21, 2018. We have submitted hundreds of faxed, mailed, emailed, and telephone requests asking that you engage the community. You have refused. Most recently, on May 30, 2018, we attempted to deliver a letter as part of the national #RealChange campaign to pressure District Attorneys to be accountable to the people. Despite following the delivery instructions negotiated with your office, the Sheriff proceeded to lock us out of the public building that you occupy.
More than 400 Los Angeles County residents have been killed by law enforcement on your watch. You have refused to file charges against a single officer, even when they have been found to have acted "out of policy" (as with Ezell Ford), are disciplined or dismissed as a result of their actions (as with Kisha Michael and Marquintan Sandlin), when there is an apparent cover up (as with Wakiesha Wilson), and/or are recommended for charges by their law enforcement units (as with Brendon Glenn).
Your record is shameful and is indicative of a clear unwillingness to act on behalf of the people. Moreover, your complete unwillingness to do your job endangers the community that you are supposed to serve. For these, and many other reasons, we call on you to immediately vacate your position as District Attorney of the County of Los Angeles.