To:

Mayor Allen Joines, Sheriff Bobby Kimbrough, DA Jim O'Neill, Mag. Denise Hines, Clerk of Ct. Renita Thompkins Linville, Chief PO Sherri Cook, Senior Resident Sup. Ct. Judge Hon. Todd Burke, and Chief Dist. Judge Hon. Lisa Menefee
Release people incarcerated pre-trial in Forsyth County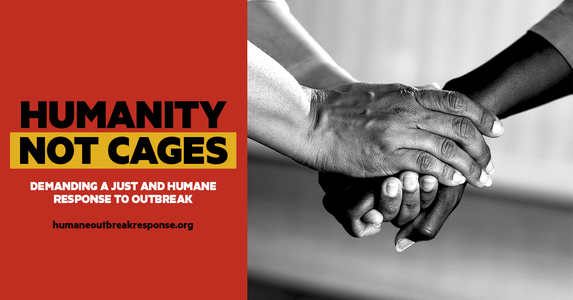 Dear local leaders,
As the COVID-19 crisis deepens, more than 700 people being held in close quarters at the Forsyth County Law Enforcement Detention Center face a severe risk of contracting and spreading the infection. Most of them have not had a trial—and won't have one anytime soon. By order of North Carolina Supreme Court Chief Justice Cheri Beasley, their legal proceedings have been delayed until April 20, 2020 at the earliest, leaving them languishing in jail without legal redress during a national crisis.
"Pre-trial detention and money bail already have hugely negative effects on individuals, families, and communities," says Julie Brady, president of the Forsyth County Community Bail Fund and a law student at Wake Forest University. "The spread of COVID-19 within the jail would be disastrous to those inside and out, physically, emotionally, and financially, in addition to overloading an already taxed-to-the-limit healthcare system."

The Forsyth County Community Bail Fund and allies are calling for the immediate release of everyone being held pre-trial on a secured bond at the Forsyth County Law Enforcement Detention Center, located at 201 N Church St. in Winston-Salem, unless the person poses an immediate threat of significant physical injury to a specific person. "If someone is incarcerated pre-trial, it's almost always because they simply can't afford to pay the bail amount," Brady said. "Holding people in jail because they cannot pay their way out in the middle of a public health crisis is unsafe and unjust." The CBF also calls for the release of people who are post-conviction, specifically those who are 65 or older, have 6 months or less on their sentence, have other health conditions that make them vulnerable to COVID-19, and do not pose a public safety risk.
Why is this important?
Even though public visitation has been suspended at the LEDC, all people incarcerated are still at high risk for infection due to their close-quarters living situation. Any guard, other staff, or newly processed detainee could potentially introduce the virus into the population, where it would rapidly spread. Staff members and at least one person incarcerated at multiple prisons in other states already tested positive for COVID-19. It is only a matter of time before it reaches the LEDC as well. Drastically reducing the jail population will limit the harm COVID-19 is able to cause. This is especially true when it comes to those already vulnerable—the elderly and those with compromised immune systems.
The longer the jail continues to house people, the greater the risk grows to those individuals, their attorneys, their families, LEDC staff, and the community at large. Measures such as visitation lockdowns and segregation are not likely to be effective. The daily churn of potentially asymptomatic people—both incarcerated and employed—in and out of the jail will facilitate the spread of COVID-19 within the jail and the community at large. The fewer people present in the LEDC, the lesser the risk.
Mecklenburg and Buncombe counties—in addition to out-of-state jails in and around LosAngeles, Cleveland, and New York City—have already begun releasing incarcerated people in the interest of public health. The Forsyth County Community Bail Fund urges Winston-Salem mayor Allen Joines, Forsyth County Sheriff Bobby Kimbrough, District Attorney Jim O'Neill, Chief Magistrate Denise Hines, Clerk of Superior Court Renita Thompkins Linville, Chief Probation/Parole Officer Sherri Cook, Senior Resident Superior Court Judge Hon. Todd Burke, and Chief District Judge Hon. Lisa Menefee to take necessary and immediate action to save lives.
Signed,
Forsyth County Community Bail Fund
ACLU of North Carolina
The Bail Project
Community Justice Center
Hate Out of Winston
Prisoner Outreach Initiative
Triad NC Socialist Rifle Association
Wake Forest Baptist Church
Winston-Salem Democratic Socialists of America
Aramie Bloom
Julie Brady
Jen Oleniczak Brown - Fearless Winston-Salem
Richardo Brown
Jocelyn Bryant - Triad Central Labor Council President
Chris Cecile - Triad Central Labor Council Vice President
Nathan Davis
Sara González
Ricky Johnson Jr.
Chris Lutz
Pastor Lia Scholl
Molly Morgan
Lillian Podlog
Cody Remillard
Emily Thompson
Brittany Ward