To:

Lake County States' Attorney's office and/or the Lake County Grand Jury in it's own capacity
Reopen the investigation into the murder of Justus Howell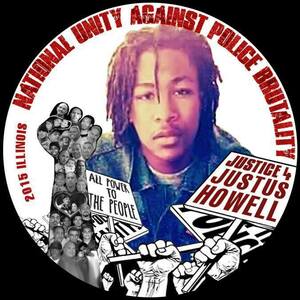 Reopen the investigation into the murder of Justus Howell and prosecute Zion Police officer Eric Hill.
Why is this important?
On April 4th, 2015 I got a call that no mother wants to get, but one that is all too often made in America. My son, Justus, was dead, shot twice in the back by officer Eric Hill of the Zion police department. Like every other mother of a Black son, who fears this outcome, on that day, it became my reality.
Officer Hill, with all of the state and union protection offered to those with a badge, painted an ever expanding portrait of what happened that day. He changed or "forgot" details, and added them when it was convenient. He trembled while on the stand during my family's lawsuit, spilling his water out of nervousness, discomfort and the stress of lying while under oath. I left the courtroom in tears-- angry, hurt and disgusted that once again someone who swore an oath to serve and protect might get away with murder.
What Officer Hill didn't know was that there was surveillance footage of his actions. Despite what this Officer and others said in reports, my son did not have a gun in his hand, the surveillance footage shows that fact. Instead, my son was running in the opposite direction of Officer Hill and at no point did he turn and point anything at the Officer . The Officer shot him in the back. To add insult to injury the Zion police department was , in my opinion, derelict in , not calling the Lake County Coroner's to the scene of the crime immediately, which provided an opportunity to potentially tamper with evidence, and to stage the crime scene and craft a story that would exonerate those involved . The Lake County Coroner updated the death certificate to include Criminal homicide as a cause of death.
Despite such evidence, Former Lake County State's Attorney Michael Nerheim has done nothing to help ease my pain or that of other families and because of the inaction of this office, I've asked the public and those impacted by police brutality and violence to join me in my call for justice for Justus and to reopen the investigation with a fresh set of eyes. Together I know that we can gain justice for not only my family but be able to usher in a change in Lake County, ensuring that police officers are held accountable and that we are represented by a state's attorney that cares about Black lives also.

For five long years I've continued to fight for justice for my son because the Lake County State's Attorney's office and Former State's Attorney Michael Nerheim continue to turn their backs on my family and the Black community in Lake County in our cries for justice from police brutality. We've voted and elected a new States Attorney and as Justus's mother, I've asked the public and those directly impacted by police who continue to beat, maim and murder Black and Brown bodies across America and around the world to join me in my call in demanding that his case be reopened and a grand jury be convened through the Lake County State's Attorney's Office or under the laws of the state of Illinois, the 19th Circuit District Court Lake County Grand Jury in it's own right.
I know the feelings of emptiness well, but I've come to understand that I am not alone, the Lake County State's Attorney's office has a history of doing little in addressing complaints and investigating wrongdoing of officers within the county. Many of us have heard the stories, have felt the pain and misery of being left out in the cold in our cries for justice and equity. The State's Attorney Eric Rinehart, his office and/or the Grand Jury can do something about it and we are demanding they do so now by reopening Justus Howell's case. Those who have signed are demanding that you take action. Don't let another Black life and family feel the pain of not having equal justice.
As our elected representative, the Lake County State's Attorney Eric Rinehart has a significant and powerful role in not only holding officers accountable for wrong-doing, but the criminal justice system as a whole. We are taking action now to ensure that no mother feels what I've felt and what I feel every day knowing that my son's killer walks free and still has a job. To know that at any given time, I can run into Officer Hill and feel powerless in his presence knowing that he shot my child in the back and got away with it by lying and saying that he was afraid. When will my fear go away? When will the fear of many of the mother's of Black son's be eased? When will our Black lives and stories matter? When will the injustice end?
Justice for Justus, now and forever!
LaToya Howell & Family