To:

The Oakland Unified School District Board of Education (OUSD)
Keep Cuts Away From Our Kids and Our Schools!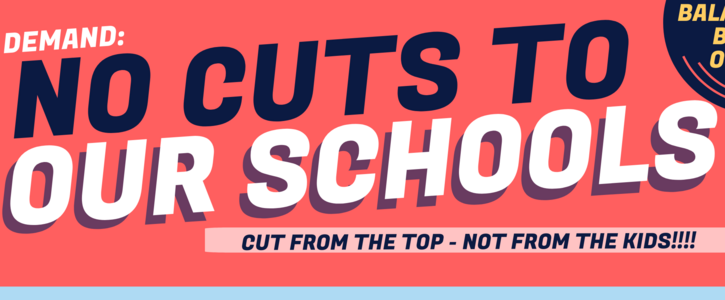 KEEP CUTS AWAY FROM OUR KIDS AND OUR SCHOOLS!
Why is this important?
ENOUGH IS ENOUGH.. Stop balancing the budget on the backs of our kids!

Due to former Superintendent Wilson's BLOATING of Central Office, fiscal mismanagement, and massive overspending by Central - the district has been operating with a structural deficit for several years, depleting our reserves and causing us to fall below the state mandated 2% reserve.
The Alameda County Office of Education has threatened NOT to approve our 2017-18 budget report unless OUSD restores that 2% reserve - just $1.2 million would get us there - and takes steps to get our finances in order.
The District ALREADY cut $32 million over the last 10 months to close the shortfall which hurt kids and schools (by cutting essential programs and services). By December 13, the district will vote on $15.1 million in additional cuts (with $5.6 million being cut directly from school sites) - which is far more than necessary to meet the reserve.
IT IS POSSIBLE to keep cuts away from all school sites if the BOARD:
● Cuts From the Top - Not From the Kids. Return to 2013-14 Central staffing levels for executive positions, cut from Central anything that is non-essential to kids learning, and cut unnecessary consultants! Publish transparent Central Dept budgets - we need to know how our kids money is being spent.
MOVING FORWARD,
● We need to adopt budget equity principles to ensure any future proposed cuts include community input and engagement, and do not disproportionately harm our most vulnerable students.
● We also need to make necessary changes required (immediately) to establish a Healthy Finance Department
HERE'S WHAT YOU CAN DO NOW!
● SIGN and SHARE this petition https://tinyurl.com/nocutstokids - to make your voice heard now and get updates
● EMAIL board members to demand NO CUTS TO SCHOOLS: https://tinyurl.com/emailousdboard
● ATTEND and SPEAK UP at the School Board Meeting on NOVEMBER 27th
● SHARE YOUR IDEAS for savings by with OUSD: https://tinyurl.com/suggestsavings
The Justice for Oakland Students Coalition (J4OS) is a group of deeply concerned students, parents/families, teacher allies, and community organizations - including Oakland Kids First (OKF), Parent Leadership Action Network (PLAN), Black Organizing Project (BOP), Parents United for Public Schools and others - who came together to demand our District: Directly fund schools, not high salaries at the executive level in Central Office. Budget transparency and accountability. Dollars should align to the greatest need; Stop the proliferation of charter schools and re-invest in making all in-district schools excellent; Divest from school police and reinvest in a culture of restorative justice, real school safety and inclusion; and Honor the principles of equity, meaningful engagement of students and parents, democratic decision-making and shared governance.