To:

The Chilean Government
Support for LASTESIS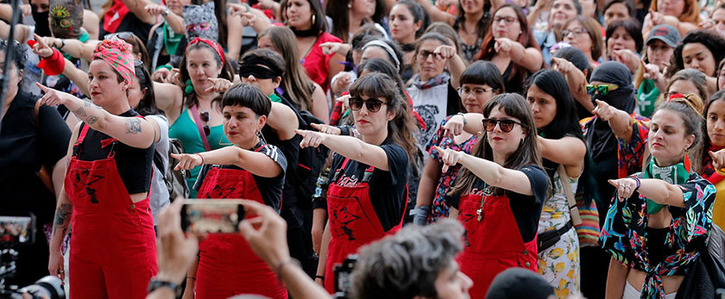 Take a stand with and for LASTESIS and demand the National Police Force in Chile drop all charges against its members.
Why is this important?
On June 16th 2020, the feminist art collective LASTESIS learned of a criminal investigation opened against them by the National Police Force, the Carabineros de Chile, through the media. Neither the members of LASTESIS, nor their legal representatives, were informed of the charges brought against them.

In 2019, LASTESIS rattled the world by performing Un Violador En Tu Camino (A Rapist In Your Path,) a powerful performance art piece which decries violence against womxn and the oppressive systems that perpetuate police brutality, rape culture, and femicide. The protest inspired millions of people across the world in Greece, India, France, Germany, Africa, Mexico, Turkey and hundreds more to take to the streets in a united front against the physical and sexual violence all womxn and femmes face at the hands of everyone from police to partners to employers to the state. This past January a group of activists and artists in New York City, came together and performed A Rapist In Your Path in front of the criminal courthouse where Harvey Weinstein was being charged with multiple counts of rape.

LASTESIS are wrongfully accused of inciting violence and threats against the police, who reported feeling intimidated and fearful of future attacks against them as a result of LASTESIS' performances. It is clear these fraudulent charges and artistic censorship against LASTESIS are directly related to their ability to inspire millions of womxn in Chile and around the world to demand a systemic end to the sexual violence womxn are forced to live with everyday. It is undeniable that the Chilean government, the National Police force and any other institution that is complicit in allowing these fraudulent charges to move forward are afraid of the cultural and political power LASTESIS' artwork holds.

We the undersigned reject the intimidation, artistic censorship and the threats of violence against LASTESIS by the National Police Force. Police violence and intimidation are an international crisis, which much like in the United States affects Afro-Latinx and Indigenous populations at a disproportionate rate. Now more than ever we need to stand with each other at home, and abroad.

We the undersigned pledge to defend artistic works in times of political and social crisis; to defend freedom of expression; and to underscore the imperative to protect art in our community as a space of freedom.

We the undersigned believe when systems of power attack even one womxn for daring to stand against societal violence, they attack all womxn.

We the undersigned stand with LASTESIS and demand the National Police Force drop all charges against its members.

Millions around the world have performed LASTESIS knowing that our liberation is bound in each other. Now more than ever, the whole world is watching.
In Solidarity,
Amber Tamblyn, Ginny Suss, Nadya Tolokonnikova, Nelini Stamp, Paola Mendoza, Sarah Sophie Flicker and Yara Travieso.
Adriana Corral, Artist
Ai-Jen Poo, Feminist Activist, Organizer
Alysia Reiner, Actress, Producer
Alyssa Milano, Actress, Activist
America Ferrera, Actress, Producer, Activist
Aminatou Sow, Author, Cultural Critic
Amy Poehler, Actress, Director
Amy Schumer, Comedian, Actress
Ani Difranco, Singer, Songwriter
Arlene Dávila, Professor
Ashley Judd, Actress, Activist
Ashley Nicole Black, Comedian, Writer
Black Thought, Artist
Bradford Young, Director of Photography
Candice Fortin, Political Organizer
Carmen Perez, Activist
Cecile Richards, Organizer
Chan Marshall AKA Cat Power, Singer, Songwriter
Connie Lim AKA MILCK, Musician
Cree Summer, Actress
Cristina Jimenez, Immigrant Rights Activist
Dan Cogan, Film Producer
Dr. Brittney, Cooper, Author, Professor
Dr. Amalia Mesa-Bains, Artist
Eisa Davis, Writer, Performer
Ellen Barkin, Actress
Eva Longoria, Actress, Producer, Artist
Gabrielle Union, Actress, Activist
Ilana Glazer, Comedian, Actress
Ilyse Hogue, Activist
Janaya Future Kahn, Storyteller, Writer
Jenna Arnold, Author
Jenni Konner, Film & TV Writer
Jennifer Esposito, Actress
Jess Morales Rocketto, Feminist Activist, Organizer
Jesse Havea AKA Brita Filter, Performer, Activist
Julianne Moore, Actress
Kathy Najimy Actress, Activist
Kevin Powell Author, Activist
Lena Waithe Actress, Producer, Artist
Leonor Varela, Actress
Liat Olenick, Political Organizer
Linda Sarsour, Activist
Lucas Akoskin, Producer
Marika Anthony Shaw, Musician, Activist
Marisa Tomei, Actress
Megan Ellison, Film Producer, Entrepreneur
Meredith Talusan, Author, Journalist
Michael Skolnik, Entrepreneur
Michelle Williams, Actress
Milla Jovovich, Actress
Mona Chalabi, Journalist
Monica Ramirez, Activist
Mychal Denzel Smith, Author
Natalie Portman, Actress
Olivia Wilde, Actress, Director
Opal Tometi, Activist
Patton Oswalt, Actor
Phillip Picardi, Editor
Reed Morano, Director
Rose McGowan, Activist, Artist
Rosie Perez, Actress, Activist
Sophia Bush, Actress, Activist
Tina Tchen, CEO
Tabitha St Bernard-Jacobs, Activist
Taylor Schilling, Actress
Teresita Fernández, Artist
TK Wonder, Artist
Uzo Aduba, Actress
Zakiyah Ansari, Activist
Zoe Saldana, Actress