To:

Attorney General Kwame Raoul
Tell Attorney General Kwame Raoul to Shutdown the Iroquois County Jail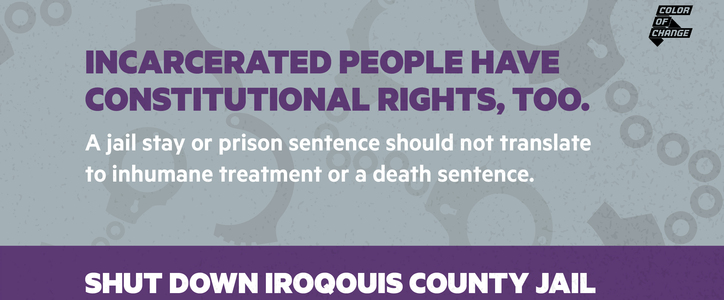 Tell Attorney General Kwame Raoul to Shut down the Iroquois County Jail.
Why is this important?
The Iroquois County Jail is a small facility, holding a maximum of 35 inmates and located in rural Illinois. This facility is responsible for escalating acts of negligence, abuse, and violence towards incarcerated community members that culminated in the tragic deaths of two men--Jason Fancher and another man whose family wishes to remain anonymous--in August of 2020. Legal documentation and community testimony show that correctional officers who continue to work at the jail today consistently deny/improperly distribute medications, deny life saving medical attention (such as ambulances), and commit unchecked acts of verbal and physical abuse towards inmates. The lack of proper staffing, training, and protections provided to inmates, the refusal to adhere to Illinois Department of Corrections standards, the subsequent deaths, as well as lack of cooperation on behalf of jail leadership, prove that the only option is to shut down the Iroquois County Jail.
The Iroquois County Jail is located in Watseka, Illinois a historical "sundown town". Sundown towns are majority white towns where non-whites are not welcome after sundown. The deaths that occurred in 2020 at the jail were not an accident, they were the result of gross medical negligence in an Illinois state-operated facility. Both cases exemplify the inherent violence of this institution. Jason, who suffered from severe asthma and sleep apnea, was consistently denied medical attention for his ongoing ailments. When Jason's mother, a registered nurse, called to request that Jason be taken to a hospital to receive adequate medical care and have his edema drained before fluid started entering his lungs, the guard she spoke to threatened to strip and beat Jason the next time his mother called. Their unjust deaths exposed further wrongdoing within the jail, including the fact that both incarcerated people were sexually harassed/assaulted while in the jail. The mothers of both reported inmates begged officers and the Sheriff to treat their sons before it was too late. All of this is unacceptable and a reflection of the cultures of abuse and negligence that often happen inside jail/prison walls in cities nationwide.
Nearly a year ago, in an attempt to address the severe public safety threat presented by the Iroquois County Jail, those affected by it's negligence, with the support of the community brought forward demands to improve conditions such as access to medical staff and compliance with the Prison Rape Elimination Act. Additionally, monthly events were held with the intention of bringing awareness to and addressing these issues. It is as a result of the jail and it's leadership's total unwillingness to acknowledge the ongoing cries for help, or make any attempts for improvement, that we are now calling for the facilities to be completely shut down.
A jail stay ahead of your trial or a prison sentence should not translate to inhumane abuse and your untimely death behind bars. The Iroquois County jail has a history of violating the rights of incarcerated people and it is time that correctional officers are held accountable to protect these basic constitutional rights. Officers & County Sheriffs should not play judge, jury, and executioner. This petition is one step in the ongoing fight to dismantle a toxic culture in the jail and in the county policing system which has taken the form of assault, jail overcrowding, intimidation, lack of transparency, and refusing medical care.
Access to medical care (and sufficient medical care) is a vital right for all Americans, including our loved ones who are incarcerated. When incarcerated people are denied those rights, it's not only inhumane - it's illegal.
The injustice running rampant in this institution transcends racial lines. The injustices in the system are not isolated, but rather permeate our society and have the power to affect many corners of our communities.
The Civil Rights Bureau of the Illinois Attorney General's office is currently in the process of a preliminary investigation into the patterns and practices of abuse and negligence at the Iroquois County Jail. Beyond signing this petition, the next step to gain justice for the deceased, and every other person who has been and will be incarcerated in the Iroquois County Jail, is to call Attorney General Kwame Raoul (217-782-1090) and demand that he shutdown the Iroquois County Jail.