To:

President Mason, Dr. Latham, Troy LeMaile-Stovall, UDC Leadership and the Student Government Association
We Demand All Gender Restrooms at UDC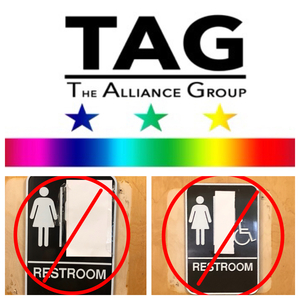 We the student's at The University of the District of Columbia, supporting faculty & staff and the Executive Board of the on campus LGBTQ+ organization The Alliance Group (T.A.G) ask that President Mason and those in power at The University of the District of Columbia provide the institution with:
1. A time to meet to discuss our demands with UDC leadership by Tuesday, September 3, 2019.
2. Mandatory LGBTQ+ Cultural competency trainings and seminars for the entire UDC community.
3. Campus-wide implementation of Gender Neutral Bathrooms (GNBs) including: educational signage, access to information and UDC communications.
4. Identify the person(s) who vandalized the restroom and follow through with an accountability and judicial procedure (fine, suspension, training etc.)
5. Create institutional support of LGBTQ+ students including, but not limited to: inclusive policy, admissions, and CDIMA funding specifically for the LGBTQ+ student population to ensure that LGBTQ/ Non-binary students are acknowledged, affirmed and supported.
Why is this important?
On Tuesday, August 27, 2019 around 2:00pm, a member of the UDC community threatened our sense of safety by vandalizing the only community gender neutral bathroom on our campus. On the A level of Building 44, adjacent to the Center for Diversity, Inclusion, and Multicultural Affairs, a sheet of paper intentionally obscured half of the gender neutral and accessibility restroom signage.
This is a hate crime and a direct violation of Title IX. As the first LGBTQ+ student organization at the University of the District of Columbia and part of only 30% of HBCUs that have active LGBTQ+ student organizations, we The Alliance Group (T.A.G) are requesting a meeting with UDC leadership on addressing this incident and we have created a list of demands.
Hate crimes targeting LGBTQ+ and Non-binary people have increased since President Donald Trump was elected in 2016. Additionally, 16 Transwomen have been murdered so far this year and all but one have been women of color. Washington D.C has the highest number of openly LGBTQ people in the nation and as the only urban, public Historically Black College in the nation, we believe we cannot sit by when incidents like this happen on our campus. We are asking for your support by signing this petition and sharing it with others. Real change happens when everyday people like you and I come together and stand up for what we believe in. Together we can reach heaps of people and help create change around this important issue of homophobia and transphobia.
UPDATE: As we were preparing to send this letter, at 12pm on Wednesday, August 28, 2019, our community has been attacked again; another vandalization occurred at the same bathroom in building 44. This requires outrage and action on our leadership's behalf immediately
With Love and Support,
The Alliance Group (T.A.G)