To:

The Los Angeles County Board of Supervisors
Hold the Los Angeles County Sheriff's Department Accountable, Demand Civilian Oversight WITH POWER!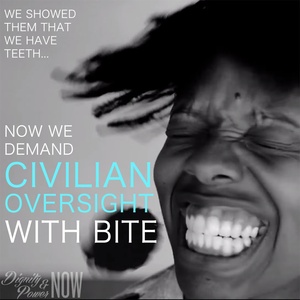 To The Los Angeles County Board of Supervisors:
I urge you to create an independent civilian oversight commission to help end the Los Angeles County Sheriff's Department's (LASD) pattern and practice of abuse, medical neglect, and excessive force Los Angeles' Black and Brown communities. This commission must have full legal authority to retrieve records and testimony, as well as assess, analyze, and report on patterns of excessive force, misconduct, medical neglect, and any other human rights violations against our loved ones inside and outside of what remains the largest jail system in the world.
In advance of this vision, I urge you to do the following:
1) Change the Los Angeles County Charter to grant the civilian oversight commission the power to subpoena the sheriff's department, as well as any third parties involved in custody or patrol operations and incidents of excessive force. The ability to subpoena records and testimony is critical for retrieving information about patterns of sheriff violence that is often withheld from the public.
2) Establish a nine member civilian oversight commission whereby four of the nine commissioners are selected by community members and organizations. The selection process should be reserved for organizations that prioritize the civil and human rights of incarcerated people, their loved ones, and communities.
3) Empower the civilian oversight commission to direct the monitoring, auditing, and reporting functions of the newly created Office of the Inspector General. The current Inspector General has publicly expressed his willingness to serve as the eyes and ears of the community and the oversight commission.
4) Ensure that no current or former law enforcement sit on the commission. In a series of public forums throughout April, community members have been overwhelmingly opposed to any law enforcement sitting on a commission that was created to represent the community.
5) Build into the civilian oversight commission independent legal counsel. In cases of excessive force the sheriff's department is represented by County Counsel during legal proceedings. It is important that County Counsel not also play an advisory role to the commission as that would be a conflict of interest.
Independent civilian oversight should be the norm in Los Angeles as it exists in many cities and counties across the country. On April 30th, 2015, the city of Newark, New Jersey establish an 11 person civilian review board with subpoena power and 7 of its members will be appointed by community organizations. Our loved ones have endured unchecked sheriff violence in its many forms for long enough. I urge you to move forward with the above model of independent civilian oversight to ensure transparent, humane, and accountable policing in Los Angeles.
[Signature]
Why is this important?
On December 9th, 2014 our two plus year fight for civilian oversight erupted in an enormous victory for the Coalition to End Sheriff Violence, a project of Dignity and Power Now. On that day the supervisors voted 3-2 in support a civilian oversight commission. That was the first step. The next step is making sure that this commission is effective and not simply another department rubber stamp. Your support is necessary if we are going to push the county to create the most powerful model of oversight possible for Los Angeles.
Spread across Los Angeles County are 8 facilities that make up the largest jail system in the world, run by the largest sheriff's department in the country. That very system has been the site of a long history of brutality against our loved ones being held in these facilities. In a county that is 9% Black, Black prisoners make up 30% of the county jail population, and almost 50% of the county jail population with a "serious mental health condition." The history has come to a head in Los Angeles where in the past three years the county has been shaped by three significant events.
1) Deep reaching exposure of patterns of "hyper violence" against our loved ones and a corrupt culture inside the department that has covered up these abuses. Story after story has revealed patterns of prisoners being beaten while restrained, physical attacks that continue after prisoners have lost consciousness, fractured bones, denial of medical care, and retaliation for filing complaints. Exposure of these widespread abuses took the form an ACLU class action lawsuit, a thorough and scathing year long investigation initiated by the county's Citizens' Commission on Jail Violence, a Department of Justice civil rights probe into the jails, an FBI investigation that has resulted in 18 indictments for corruption and abuse, and the courage of countless survivors of sheriff violence who have continued to come forward with their stories and have become leaders in this growing movement. This movement includes the Coalition to End Sheriff Violence which has brought together over 20 organizations across Los Angeles County with the leadership of formerly incarcerated people and their loved ones at the forefront.
At the height of the exposure, it was found that 57% of use of force incidents in the jails were initiated be sheriff's deputies. The persistent exposure of the departments "force first" approach and the corruption that kept it hidden resulted in the formal resignation of Sheriff Baca. His resignation paved the way for a highly contested election where Jim McDonnell, one of the commissioners on the Citizens' Commission on Jail Violence, claimed the position as sheriff. While he has publicly stated that he is invested in reform, our communities cannot lay our faith, nor the fate, of our families solely in the hands of the department that for decades built a culture of unchecked abuse in the jails.
2) A groundswell of organizations and community members has built a movement to hold law enforcement in Los Angeles accountable. This heightened momentum comes at a time where communities around the country are pushing back against law enforcement misconduct, excessive and lethal force, and national trends in anti-Black state violence are being challenged.
3) The countywide demand for civilian oversight is a demand to break from the long history of unchecked law enforcement brutality hidden behind the walls of the county jails and taking place in our communities. For years, the sheriff's department denied the need for civilian oversight and even went so far as to claim that effective independent oversight "already existed." While the last few years have produced important reforms in the sheriff's department, including a new sheriff, the community has endured violence long enough. Without independent civilian oversight, there is no effective county body that is rooted in the voices of our families inside the jails. That voice, given the legal authority that independent oversight provides, is the only thing that will ensure that recent reforms become lasting deterrence against one of the most brutal jail operations in the country.
Nationwide, from St. Louis and Newark to Salinas and Los Angeles, communities are moving their local governments to create independent civilian oversight bodies. Los Angeles is one of many county's where Black people are targets of law enforcement violence at alarming rates. Winning civilian oversight alone won't stop these abuses. However, a legally empowered oversight commission is a powerful means of securing the power and dignity of Black people across Los Angeles.
How it will be delivered
The petition signatures will be delivered to The Los Angeles County Board of Supervisors following a press conference outside of Kenneth Hahn Hall.