To:

Capri Retail Services
Demand Baldwin Hills Crenshaw Plaza to allow SEE-LA's Crenshaw Farmers Market to operate!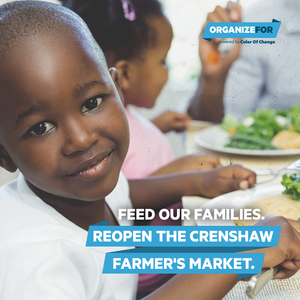 Demand
1. Reopen the Crenshaw Farmers Market at the Baldwin Hills Crenshaw Plaza
Why is this important?
As a local community leader who is part of the historic food fairness movement, I am committed to providing affordable and nutritious food to families living in a community that does not have the accessibility to live a healthier lifestyle. The fight to keep the Crenshaw Farmers' Market open at the Baldwin Hills Crenshaw Plaza is important because it serves as an essential source of affordable fresh food for the Black and Brown community in the heart of South LA. I strongly urge Capri Retail Services to allow SEE-LA, also known at Sustainable Economic Enterprises of Los Angeles to reopen the Crenshaw Farmers' Market at the Baldwin Hills Crenshaw Plaza as it is defined as an "Essential Business" by the city of Los Angeles. You have a responsibility to the community and the people you serve as the Plaza's unique location is in a federally recognized "Food Desert" and requires a responsibility to continue providing access to food during this pandemic.
On Friday, March 13th, many local grocery chains were stripped bare with the anticipation of the upcoming executive order enhancing California's ability to respond to the COVID-19 pandemic by closing down all non-essential businesses and practicing social distancing. While panic set-in as folks walked the empty aisles of their local chain grocery stores, SEE-LA prepared our vendors with updated safety measures to take across all our markets. Knowing how impacted our community would be with limited food accessibility we prepared vendors for the rush and set up safe distancing practices in the market and doubled our usual tripling of benefits. Example: the usual $10 in CalFresh/EBT plus $20 in benefits, became $20 CalFresh/EBT plus $40 in benefits. Despite the fear of this prolonged pandemic, SEE-LA knew the community we serve needed affordable, accessible and fresh produce so we proceeded as always with the market nearly selling out, but this would be the last time we served the people in our community. Your corporation deemed this market unsafe even with the efforts SEE-LA showcased to keep the community safe while providing essential products to the community that need it most.
Now as a certified farmers' market, the Crenshaw Farmers' Market has always been regulated by strict policies designed to prevent the spread of infectious diseases. Additionally, this market takes place outside in an open-air space, with farmers' market produce and prepackaged foods passing through fewer hands than other retail outlets. Since the region that the Plaza sits in is considered a Federally Recognized Food Desert, and supplies at the grocery stores in the community are running short, our market remaining open is essential to people being able to get fresh fruits and vegetables, the very things that doctors recommend to keep bodies healthy. The novel coronavirus is threatening affordable access to food in communities that are already struggling at an alarming rate. The US Department of Agriculture records one in nine Americans struggle with hunger. SEE-LA is committed to ensuring that our community has the basic needs and that exemplary safety precautions are in place to flatten the curve during this pandemic and beyond.
Here are two very important reasons that we need to remain open until, or if the Public Health Department decides otherwise:

1.) The fact that there are fewer than half the amount of grocery stores in this part of Los Angeles, compared to West LA.

2.) We have unique incentive programs at this market that allow shoppers using CalFresh to triple their buying power in the certified (farmers) section for farm fresh, nutritionally dense foods. Which serves a majority of the Black and Brown families near this unique location.

Those two reasons help those most vulnerable, including the elderly, local residents with medical conditions and especially children of LAUSD Title 1 schools. As you know, students at those schools count on getting one or two square meals while schools are in session. While LAUSD scrambles to figure how to keep feeding those children during the district-wide school closure, our program helps to stretch the buying power of their families, residents who may also be facing even more financial hardships because of other business and job closures.
Since the closure of this specific Farmers' Market, we have been in contact with our target, Capri Retail who has expressed little to no compassion for the community you are serving. After our continuous efforts to ensure and prove to Capri Retail that we're following the LA County Department of Public Health regarding safety protocol -- we were denied, again. Not only were we denied after providing evidence supporting our safety measures, we were asked to provide more unrealistic protocols that are not required by the Public Health department. You have a responsibility to the people in the South L.A region to reopen the Crenshaw Farmers' Market at the Baldwin Hills Crenshaw Plaza to provide the people it serves with essential needs to survive during this pandemic. By reopening the Crenshaw Farmers' Market at the Baldwin Hills Crenshaw Plaza, you will continue to answer the call in our community to provide healthy and accessible food options.

I strongly urge Capri Retail Services to make a decision to invest in our community's access to healthy choices during this time with the reopening of our local Farmers' Market.
Thanks,
Marie-Alise