To:

Oklahoma Pardon and Parole Board
#FreeBlackMamas - Justice for DV Survivor Tondalao Hall

Project Blackbird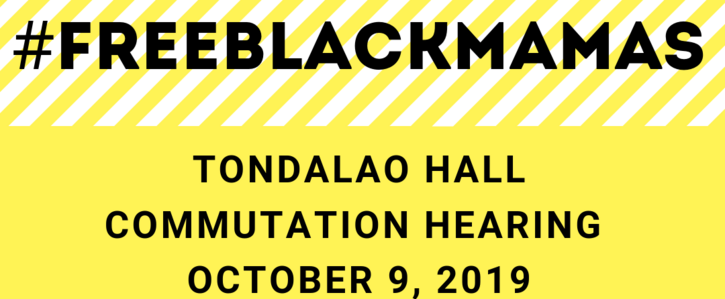 Approve Tondalao's commutation to release her from Mabel Basset Correctional Facility.
.
Why is this important?
Tondalao Hall is a domestic violence survivor sentenced to 30 years behind bars under a "failure to protect" law. Tondalao was punished for not leaving her abuser quickly enough, before he could inflict physical abuse on their children.
The abuser, Robert Braxton, was released back to the streets the day he was sentenced for child abuse, with only 8 years of probation to serve. He admitted to breaking the ribs, toe, and femurs of the two youngest children.
Tondalao, the adult victim of his abuse and mother of his children, is now serving her 15th year behind bars.
While we haven't had much to celebrate in the quest for Tondalao's freedom, this time is slightly different than others.
Here's how:
1. The Pardon and Parole board voted UNANIMOUSLY in a 5-0 vote to move her case to the next round.
2. Four out of five board members were appointed within the past year.
3. After years of organizing, District Attorney David Prater finally wrote a letter of "support" calling for Tondalao's release.
Oklahoma has the highest rate per capita of incarcerated women than any other place in the word. Hall is 1 of 28 women sentenced across 11 states under "Failure to Protect" laws who are serving more time than the abuser himself. Hall's appeal for justice could have broader implications for the lives of women across experiences.
​Courts must not use Failure to Protect laws to further victimize survivors of domestic violence by scapegoating them for their batterers' crimes.
Failure to Protect laws must not hold domestic violence victims with children to an impossible standard of choosing between risking their lives (and their children's' lives) and risking their freedom.
After 13 years behind bars, Tondalao has served enough time for a crime she didn't commit.
We must do better to protect and #FreeBlackMamas.