To:

Philadelphia Housing Authority, City of Philadelphia, and Philadelphia Land Bank
Land Sovereignty for Blaine Elementary School Garden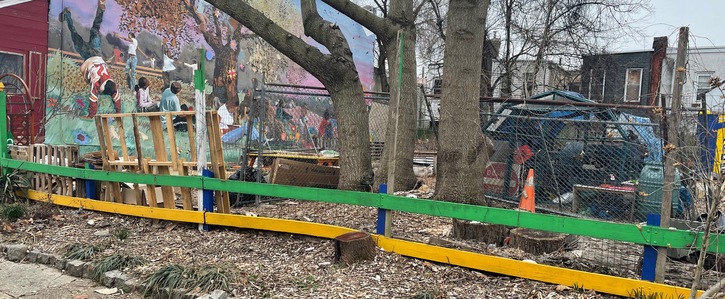 As members of the larger Philly community and neighbors to folks residing in the Strawberry Mansion neighborhood, we want to express support for The Strawberry Mansion-Blaine Elementary Environmental Center. The environmental center is an educational space and community garden that is tended by passionate students, dedicated staff, and community members, started over twenty plus years ago.
The garden also serves as an educational space where students and community members learn about agroecology and food justice. Students utilize materials in the garden for creating art, learning about plant biology and ecosystems, engaging with climate change, organizing sustainability projects, and carrying out community partnerships – like reducing litter with Litterati. The students also learn to grow crops and maintain native plants. Additionally, the environmental center provides fresh, whole foods in a neighborhood impacted heavily by food insecurity.
The garden's coordinator, Ms. Atuwfa Muhammad, has been working hard to steward the land, fund their growing projects, and protect the students' continued access to the space. The garden is located on parcels that are owned by the city and Philadelphia Housing Authority. The garden has already lost some land to new development and construction. Additionally, Ms. Muhammad has had difficulty getting in contact with the city to renew land-use agreements for the parcels.
This letter is meant to support Ms. Muhammad and her students in their attempts to keep their garden and renew their land-use agreements. We hope that eventually Blaine Elementary can obtain more rights to the land on the path to potential lease or ownership.
As a community, we look forward to seeing this project grow and will continue to support it.
Why is this important?
Educational, green spaces like The Strawberry Mansion-Blaine Elementary Environmental Center provide food, gathering, education, and social advocacy support community healing and encourage youth engagement.
The environmental provides vital science, math, technology, art, and engineering education through an agricultural lens. Blaine students deserve access to environmental spaces that enhance their everyday learning and provide new avenues for study.
How it will be delivered
We plan to share this petition and letter writing campaign with all interested parties through Ms. Muhammad direction and guidance.