To:

Jackie Lacey, Los Angeles County District Attorney
Prosecute Police Who Kill Our People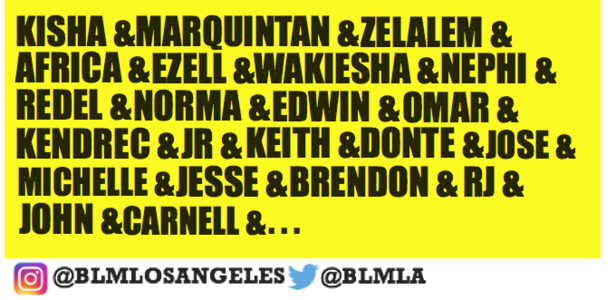 We are demanding that District Attorney Jackie Lacey bring charges against police when they kill our people, beginning with the filing of charges against former Inglewood police officers Michael Jaen, Richard Parcella, Jason Cantrell, Sean Reidy and Andrew Cohen who killed Kisha Michael and Marquintan Sandlin while sleeping in their car in February 2016, leaving seven children without their parents. All five officers have been removed from the City of Inglewood's police force after more than a year of intense public pressure led by their families, Black Lives Matter-Los Angeles, White People for Black Lives, Holy Faith Episcopal Church, and Inglewood residents.
Charges against the former Inglewood police officers who killed Kisha Michael and Marquintan Sandlin should be the first among many charges filed against officers who kill community residents. We are demanding that in each case, the District Attorney vigorously pursue charges against murderous and abusive officers rather than deferring to police units rife with scandal and corruption to hold themselves accountable.
Why is this important?
During her terms in office, nearly 300 Los Angeles County residents have been killed by police, including #EzellFord, #KendrecMcDade, #JohnHorton, #NephiArreguin, #MichelleShirley, #RedelJones, #WakieshaWilson, #JRThomas, #KeithBursey, #JesseRomero, #EdwinRodriguez, #KennyWatkins, #BrendonGlenn, #BrotherAfrica, #ZelalemEwnetu, #CarnellSnell and literally hundreds of others. In the case of Brendon Glenn, the officer was actually recommended for charges by the Los Angeles Police Department. NO OFFICER HAS EVER BEEN CHARGED FOR THE KILLING OF A RESIDENT BY LACEY.
Los Angeles Police Department, Los Angeles County Sheriffs, and the policing units throughout the County lead the nation in the killing of community residents. For at least the last five years, LAPD and LA County Sheriff have led the nation in police killings. Yet, the District Attorney has not charged a single officer in any of these killings. The message sent to Los Angeles County law enforcement units is that they can kill residents and get away with it. Police cannot be relied on to hold themselves accountable, this is the work of the District Attorney. We are demanding that Jackie Lacey do her job and prosecute corrupt, abusive, and murderous police.