To:

Los Angeles Unified School District/Local District West/LAUSD School Board
Protect Baldwin Hills Elementary Pilot School from Charter Growth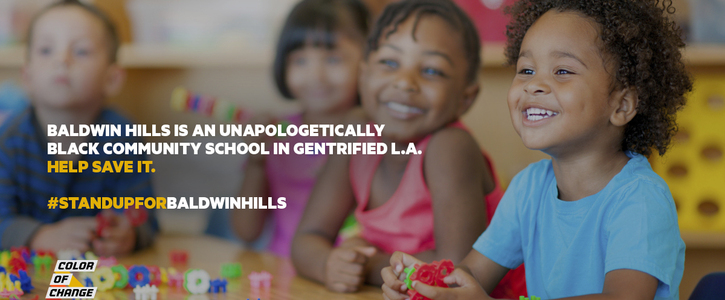 We are standing up and demanding:
a) the District maintain the integrity of our school's programs
b) the District do what's right by and for our children, our community
c) the District move the charter to another site
Why is this important?
We are concerned community members of Baldwin Hills Elementary Pilot, a school doing amazing things with and for our Black and Brown babies, 80% Black.
1. Local, Black District officials (one of whom went to Baldwin) and local, Black LAUSD Board office heads are laying low, doing nothing to protect our school's programs.
2. Charter school needs space, wants to move to another LAUSD campus with space, while LAUSD is actively NOT pursuing this alternate agreement to move the charter.
3. What space on Baldwin Hills campus does LAUSD want to give to the charter?
a). Our music room
b). Our arts room
c). Our technology lab
d). Our parent run after school childcare room, where one our mothers pays LAUSD rent, to house her program on our campus for our families
4. What makes Baldwin Hills a special place, one worth preserving?
a). 2 out of 3 students score near/at/above standards in mathematics
b). 3 out of 4 students score near/at/above standards in language arts
c). We're a Pilot school with autonomies to innovate. We focus on culturally responsive teaching, STEAM, and project based learning.
d). We are a highly rated arts program school.
e). Multiple Excelling Magnet Awards
f). National Board Certified Teachers alongside LAUSD Rookie of the Year Teacher
5. We're doing this with children that nationally are underserved and underperforming: Black and Brown students. So, while the District lays low, we stand up!
Do what's right! Move the charter to another site!
#westandupforbaldwinhills #whoarewebhep