To:

Antwyn Brown, Chief of Staff to DeKalb County Schools Superintendent
#ProtectYoungBlackAthletes in DeKalb County Now
Dekalb Co has initiated hiring process for athletic trainers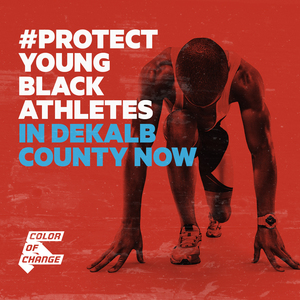 We demand:
Hire more athletic trainers (for schools, for games, etc) and/or share athletic trainers among smaller schools in DeKalb county.
Allocate district funding to hiring more athletic trainers.
Allow athletic training consultants to train school personnel in-person (ie coaches, nurses, teachers, athletic directors) on appropriate courses of action for emergent healthcare scenarios.
Why is this important?
I have been working as an athletic trainer in Atlanta for six years now. For those six years, I have rarely seen athletic trainers on the sidelines for sporting events in a majority of DeKalb County high schools. Just last week, a Black student died from heat illness and there was no athletic trainer at the school. A Dekalb County high school dancer died from heat illness in June 2019, and there was also NO athletic trainer available at her school. Black students have been injured during basketball and football practices without the proper professional there to help and prevent a death. As students begin sports training , hiring more athletic trainers should be a priority to keep them safe! Our Black student athletes deserve better and hiring athletic trainers can save Black lives.
It upsets me to see a lack of sports medicine care in a predominantly Black school district. Only 5 schools in the district have athletic trainers and they house the majority of white students in the district and 12% of the student population receives the benefits of sports medicine care. Black students are being left without. To create a better world for Black children in Dekalb County Schools we must see an effort for more athletic trainers hired in the school district.
Having a trained and qualified healthcare professional to provide appropriate medical care onsite, especially in emergencies, is crucial to student-athlete safety. Coaches and athletic directors in our schools are not enough. They are unable to act as health-care decision makers in emergencies. Athletic trainers can act in dangerous situations and possibly prevent death. They can protect Black students and save their lives!
We demand DeKalb County Schools to hire full time athletic athletic trainers by allocating district funding that would protect the general welfare of Black children. We also demand that athletic training consultants train school staff on the right ways to act in emergency situations. Game day coverage is not enough.
Antwyn Brown is the Chief of Staff to the DeKalb County Superintendent and is pivotal in supporting and advising the superintendent on decisions for the school district. Mr. Brown can help begin the processes needed to getting more athletic trainers in Dekalb County Schools.
Sign this petition and ask the Chief of Staff to the DeKalb County Superintendent to protect our Black student athletes and protect the general welfare of Black children now!
References:
Suzuki-Yamanaka M, Huggins RA, Armstrong KJ, Coleman KA, Casa DJ, Kaneoka K. Athletic training employment in secondary schools by geographic setting and school size within the United States. J Athl Train. 2021 Jan 22.
Post E, Winterstein AP, Hetzel SJ, Lutes B, McGuine TA. School and Community Socioeconomic Status and Access to Athletic Trainer Services in Wisconsin Secondary Schools. J Athl Train. 2019 Feb;54(2):177-181.
National Center for Education Statistics. https://nces.ed.gov/ccd/schoolsearch/index.asp
DCSD Demographics (2018-2019 School Year) https://www.dekalbschoolsga.org/documents/planning/2018/demographics-2018.pdf