To:

State Attorney Angela Corey, Mayor Lenny Curry and Governor Rick Scott
Protesters Are Not Criminals! Drop The Charges Against The Jacksonville 19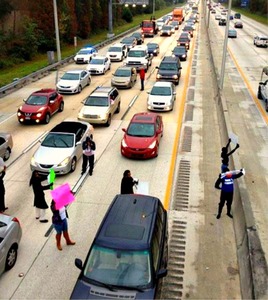 Speaking out against police violence is not a crime!
We strongly urge State Attorney Angela Corey, Mayor Lenny Curry, and Governor Rick Scott to end their shameful attempts to obtain evidence under duress, terrorize, and demonize the Jacksonville 19 protesters who are fighting for our right to live without police violence.
We urge these Florida officials to:

1) Withdraw all criminal charges pending against the 19 Jacksonville organizers and activists who put their lives on the line to temporarily interrupt the I-95 highway and the Hart Bridge traffic in protest of the police brutality epidemic that has taken too many Black lives.

2) Immediately suspend the retaliatory, penalizing, and unconstitutional restitution ordered by the State of Florida which is seeking to silence protesters from speaking out against police brutality.
It is time to preserve democracy and the dignity of Black life. We are human, we are not terrorists!
Why is this important?
On Monday December 8, 2014 during a national protest demanding justice for Eric Garner and Michael Brown, 19 activists and organizers in Jacksonville, FL (The Jacksonville 19) were arrested and charged with obstruction of traffic and were threatened with an egregious restitution fine. State officials in Florida join a sickening trend that is spreading across the nation, where protesters face harsh penalties for speaking out against police violence. From the 70k restitution charge against protesters in Oakland, CA (1) to a Baltimore protester who has a 500K bail (2), it becomes all too clear that our 1st amendment rights are under attack.
We won't stand for it. And we need widespread public pressure to expose and stop State Attorney Angela Corey's discriminatory and the outrageous attempts to profit off and punish the growing movement for Black liberation. Instead of working to end the discriminatory pattern of police violence that continues without pause, Angela Corey wants monetary reimbursement from those standing up for the inviolability of their lives. There's something terribly wrong with this picture.
How is it that protesters are being criminalized for speaking out against grave injustices and killer cops continue to walk free with no consequences for the lives they have stolen? The answer is simple. The entire criminal justice system is entrenched with discriminatory practices that further perpetuate white supremacy, which couldn't be more true for the state of Florida who has struggled with decades and decades of racism and brutal violence against Black people.
The Jacksonville 19 was arrested on December 8th, handcuffed, placed in a police cars, and driven to jail where they waited for four hours while State Attorney Angela Corey decided her plan with what to do with them. Now, State Attorney Corey has decided to harshly penalize 19 peaceful protesters with misdemeanor charges and high restitution fines for exercising their first amendment rights.
This is not the first of State Attorney Corey's abuses. Angela Corey tried to convict Christian Fernandez, a 12-year-old child, to a life time in prison; Angela Corey did not support the true judgment for Zimmerman in defense of Trayvon Martin and Angela Corey unjustly tried to convict Marissa Alexander with 60 years for defending herself in her home. This is a crisis of integrity in the Florida justice system that requires your intervention.
This case is also the first time that a Jacksonville social change group comprised of organizers, mothers, students, and women are being charged and asked to pay restitution for an action calling for an end to discriminatory policing that severely impacts the lives of Black residents in Florida. We cannot allow the State Attorney to repeat this treacherous, autocratic Southern narrative model anymore.
Florida has a long history of deep seated racism which has produced rampant brutal violence against Black people.The history of a young man, Jordan Davis, being shot at a gas station in Jacksonville in 2012 for playing his music too loud is an echo of white racist violence from 1960 when up to 200 members of the Ku Klux Klan carried ax handles, baseball bats and other kinds of clubs, threatening to organize citywide boycotts if the stores made an agreement to serve food to Black customers in downtown Jacksonville. The police stayed away until members of a group known as the Bomerangs began assisting the demonstrators. The Jacksonville 19 reflects the courage of that group, coming together to stand up for communities under attack.
Let's start by demanding that State Attorney Angela Corey, Mayor Lenny Curry, and Governor Rick Scott dismiss the charges against the Jacksonville 19!
Shut it Down!
Support the Jacksonville 19 during their trial and demand that Florida officials #DropTheCharges!
This petition is also supported by: Burnpile Press, Veterans for Peace, Jacksonville, Chapter 174, Strengthen Our Sisters, Poor Peoples Economic Human Rights Campaign, Black Women's Lives Matter, Project South, Mad Moms, The CHESS Foundation, The New Jim Crow Movement - Jacksonville, Malcolm X Center for Self Determination, SCLC, Free Marissa Now (FMN), Black Lives Matter, Ferguson Actions, Southern Movement Alliance, and New South Network of War Resisters.
References,
1) Bart Directors: When It Comes to Ending The War On Black Communities, Which Side Are You On?, 01-2015
http://bit.ly/1AfqfUG
2) Baltimore rioter slapped with $500k bail as cops charged in Freddie Gray murder walk free, 05-03-2015
http://bit.ly/1G88tsL