To:

Cosmetology State Boards & Institutions
Demand Equity in Skincare: Mandate Professional Training for Melanin-Rich Skin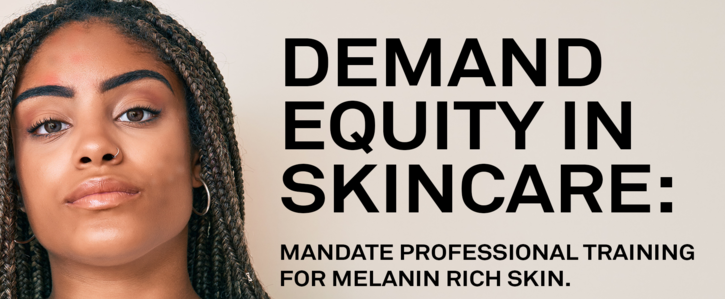 OUR GOAL:
We are calling for systemic change to give melanin-rich skin the attention and care it deserves within the professional skin care industry. It's time to change the standard of melanated skincare training used in cosmetology and esthetician training schools nationwide. Schools and training programs should focus on increasing the pipeline of skincare practitioners and estheticians certified in melanin rich skin care. Therefore, we are asking you to sign this petition asking schools to:
- Raise the bar for state licensing by establishing new certification requirements and minimum practitioner hours of melanin-rich skin training.
- Implement specific, high-quality training on melanin-rich skin as a core part of the curriculum in esthetician & cosmetology schools.
SIGN THE PETITION: PUT YOUR SKIN IN THE GAME
It is imperative that we come together and promote and support opportunities for equality, diversity, inclusion in skincare education and training. Join us in creating real change that will impact the quality of professional skincare for melanin-rich skin.
Our goal is 40,000 signatures so, please spread the word and help us get more petition signatures! Follow @Meleskincare and visit www.meleskincare.com to see the progress we're making together.
Why is this important?
Let's face it, nearly half of America is multi-cultural. And our nation's population is more diverse than ever before. As we marvel at our rapidly changing landscape, we are reminded of the continued lack of attention the skincare industry has placed on addressing the unique concerns specific to black and brown hues. The skincare market is a $27 billion dollar industry (as of 2019), but according to a recent study¹, 63% of women of color feel ignored and overlooked by the industry. Moreover, in the professional treatment of skin we also see issues of systemic neglect in the care and treatment of skin of color, with a study² showing that 47% of dermatologists felt that their medical training didn't prepare them to treat Black skin.
But dissatisfaction with the status quo is driving significant shifts; our society is calling for racial equity, in many forms. Now is the time to not only change the course of skincare, but also the coursework, practitioner requirements and certification standards used to educate and train skincare professionals. For far too long, the standard of skincare has taken a one size fits all approach, based mainly on Caucasian skin. Textbooks and training materials in cosmetology, esthetic and even dermatology schools continue to focus on Eurocentric techniques, methodologies, diagnosis of skin maladies based on appearance on Caucasian skin, and visual aids that don't apply to everyone.
FACE THE FACTS:
- Only 3% of dermatologists are Black and 4% are Hispanic³.
- Skin of color information and representation is lacking in skincare research journals, textbooks, manuals (including visual aids).
- Currently there is no broadly or consistently taught standard curriculum in cosmetology or esthetic schools focused on the unique needs of melanin-rich skin⁴.
- Black and Hispanic women are 50% less likely than Caucasian women to visit a dermatologist for similar skin concerns⁵ .
- Most skincare professionals are not taught that there are differences in treating skin of color.
¹ Survey conducted by OnePoll on behalf of LeCerre Skincare with a sample of 1000 general population and 1000 women of color Jan 13-20, 2020
² Buster KJ, Stevens EI, Elmets CA. Dermatologic health disparities. Dermatol Clin. 2012;30(1):53-59.
³JAMA Dermatology – Diversity in Dermatology: A Call for Action, June 2017.
⁴ Journal of the American Academy of Dermatology, Volume 59, Issue 4, October 2008, Pages 615-618.
⁵ JAMA Dermatology Study 2018