To:

Alameda County Leaders & Community Members
Alameda County Free Our Kids Youth Justice 10 Point Plan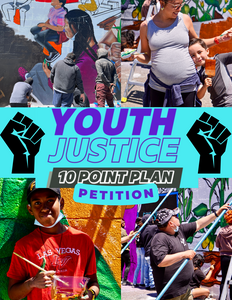 Show support for Alameda County Youth Leaders' vision for transforming the County's youth justice system as reflected in the Alameda County Free Our Kids Youth Justice 10 Point Plan.
Alameda County youth have developed a vision for a reimagined youth justice system that will make communities safer and produce better outcomes for youth than the punitive system currently in place. The youth's vision for a transformed youth justice system is reflected in the values and demands of the Alameda County Youth Justice 10 Point Plan. This petition is an opportunity for you to show your support for the values and vision outlined in the 10 Point Plan. Help us to show Alameda County Leadership that we all want change and that you agree that youth and community stakeholders are necessary partners who have the vision required to transform the youth justice system.
Alameda County Free Our Kids Youth Justice 10 Point Plan:
(1) END YOUTH INCARCERATION. Transform the way the county approaches "rehabilitation" from the common U.S. carceral practices rooted in punishment that have established a school to prison pipeline.
(2) DIVEST from law enforcement, probation, and juvenile halls to REINVEST in communities and in a juvenile justice system that centers healing, education, and positive youth development.
(3) All youth that come in contact with the Justice System deserve a Restorative AND TRANSFORMATIVE PROCESS that repairs harm and promotes healthy accountability.
(4) Allow the families and local community to ENVISION and PARTICIPATE in a healing centered Youth Justice System.
(5) DEMILITARIZE and END SURVEILLANCE in all youth spaces including, but not limited to, juvenile halls, group homes, and school campuses.
(6) WE THE PEOPLE demand access to basic human necessities to thrive; including healthy food, water, housing, health care and a living wage.
(7) DEFUND and DEMILITARIZE the local police departments to transform the county approach to public safety and community transparency.
(8) Invest and remodel public education and expand access to financial literacy to build equitable opportunities.
(9) Expand access to affordable housing, rent stability, and tenants protections both housed and unhoused.
(10) Expand access to free health care, including mental health care, for all.
Why is this important?
The Alameda County Free Our Kids Youth Justice 10 Point Plan was written by young people themselves! For the past year, youth leaders from 67 Sueños, Young Women's Freedom Center, Urban Peace Movement, Communities United for Restorative Youth Justice, and Genesis have gathered to create a Youth Justice 10 Point plan. Its purpose is to empower and center youth voices, and it gives the youth an opportunity to demand the justice they deserve and want to see in their communities. The Youth Justice 10 Point plan was completely youth-led, and draws from the inspiration of youth led movements from the past - and especially from the legacy of the Black Panther Party. We hope this platform will empower other youth to create similar 10 point plans that can help them create the change they want to see in their communities!!
Alameda County spends nearly $500,000 per youth per year on incarceration and $23,000 on average per year to place a young person on probation. Nearly one in three youth incarcerated in Alameda County are later reconvicted. On the other hand, evidence-based restorative justice practices have a one-time cost of $4,500 and the County's restorative justice alternatives produce recidivism rates of 5% when working with youth charged with specifically violent and serious offenses. We are safer and get a better return on our investment when we invest in the well-being of young people instead of locking them in cages and putting them under surveillance.
How it will be delivered
The petition will be delivered by youth advocates directly to Alameda County Leaders and Community Members.