To:

The Oakland Unified School District Board of Education (OUSD) & Superintendent
Bring Back Supper & Sports For Oakland Students!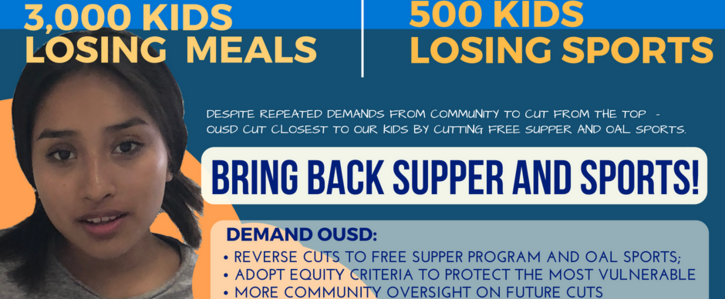 BRING BACK AFTER-SCHOOL FREE SUPPER PROGRAM AND OAKLAND ATHLETIC LEAGUE SPORTS PROGRAMS!
Why is this important?
Despite community demands to make cuts at the top and keep cuts away from students, OUSD made cuts closest to the kids. Now 3,000 low-income kids will lose daily meals and 500 kids will lose sports programs.

When studies clearly show that: kids who are hungry struggle to learn, kids need safe places to go after-school, and sports can provide pathways to academic success for underserved kids.

To protect our most vulnerable children, we demand the Board and the Superintendent:

1. Immediately Reinstate Funding to bring back the Free Supper program and the ten Oakland Athletic League sports programs
2. Adopt the following Student Equity Criteria:
● No cuts to direct services to kids in classrooms or on campus that are core to kids' ability to learn and succeed in school.
● No cuts that disproportionately harm students with highest-need by conducting an impact assessment for any proposed cuts.

Moving forward, in order to resolve our budget crisis AND protect our students, we need a new public budget process and stronger community oversight to ensure the hard decisions required (to shift significant resources out of Central Office to schools) can be made. What the first round of budget cuts has shown is, that without greater community control over resources in the district and a collective vision for equity - the students most in need will have their supports cut first.

HERE'S WHAT YOU CAN DO NOW!
● SIGN and SHARE this petition tinyurl.com/reversecutstokids
● EMAIL Board members to Bring Back Supper and Sports for all Oakland Kids! tinyurl.com/emailousdboard
● ATTEND the Board Fiscal Vitality Ctte meetings from now through December to protect the highest need students in any future cuts (the board will make up to $60M in cuts over the next two years)!
The Justice for Oakland Students Coalition (J4OS) is a group of deeply concerned students, parents/families, teacher allies, and community organizations who came together around four pillars that center students with highest need – so all kids can learn and succeed! 1) Shift money from Central Office directly to schools; 2) Stop the proliferation of charter schools and re-invest in making all in-district schools excellent; 3) Divest from school police and reinvest in a culture of restorative justice, real school safety and inclusion; and 3) Honor the principles of equity, meaningful engagement of students and parents, democratic decision-making and shared governance.