To:

Hawthorne City Council
Defund Hawthorne Police Department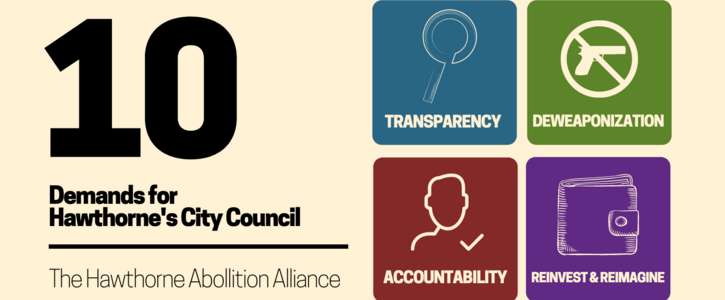 TRANSPARENCY
1. Make records of police misconduct (i.e. sexual harassment, domestic violence) complaints against officers, police demographics, the police's budget and spending readily available to the public via the Hawthorne police department's website and the city of Hawthorne's website.
2. Make demographics (i.e. charts, bar graphs) pertaining to race, age, and income of individuals arrested and detained in Hawthorne, publicly available on Hawthorne police department's website and the city of Hawthorne's website.
3. Make incident reports of police involved deaths publicly available on the Hawthorne police department's website and the city of Hawthorne's website.
4. Hawthorne Police Department & Police Officers Association (POA) must make their donations to city officials public on the Hawthorne Police Department's website and the City of Hawthorne's website.
DEWEAPONIZATION
5. Ban the usage of the following equipment owned by the Hawthorne Police Department by the end of the year 2021; including and not limited to: drones, rubber bullets, tear gas, pepper balls and any other OC (Oleoresin Capsicum) spray, and automatic weapons (i.e. 40mm devices), and minimize the usage of helicopters- leading to the eventual disarmament of all emergency responders. Ban the use of facial recognition technology by the police; leave and disclose any surveillance technologies they currently use or plan to use.
6. Adopt a maximum capacity of necessary police officers which will not surpass 155 officers and support staff (based on our current population number). If and when a police
officer is terminated or has retired, they must be replaced by a police officer who resembles the city's demographics (i.e. Latinx, Polynesian, Arabic, or Black).
○ Make demographics of current police staff known to the public by including pictures and short biographies on the Hawthorne Police Department's website immediately.
ACCOUNTABILITY
7. We call for immediate independent private investigations of police shooting incidents resulting in death and for the suspension of officers with no pay until the investigation is over, this includes bystanding officers. Police officers who have several complaints filed by the community and/or have been reviewed by the Civil Service Commission more than three times must be terminated immediately.
8. Immediately grant Civil Service Commission members investigatory authority, review authority, and subpoena power. The commission should be appointed by all city council members and have training paid by the police budget. They should be representative of the community, have no police affiliation, and have sole investigatory power at the local level.
○ Their duties must consist of reporting deaths, sexual harassment, complaints, and excessive force at the hands of police or while in police custody to federal authorities for investigation. They must also investigate aforementioned instances of police misconduct. If a police chief refuses to enforce the commission's decisions, the case must be sent to an independent private investigator immediately.
REINVEST & REIMAGINE
9. Position first responders as an unarmed community of workers that have no affiliation with the police, are restorative/transformative practitioners, are skilled in de-escalation and reside in Hawthorne by the end of 2021.
10. Immediately revisit the budget and reduce the police budget by 50%. Use funds taken from the police department to fund areas of need in Hawthorne's community and build resources to address the roots of those issues. These areas of need include but not limited to: more COVID-19 testing centers, mental health and addiction resources, sex education, community resource centers, rental protection, universal aid, safe and affordable housing, family counseling, afterschool programs, free daycare for all, fresh affordable food and land stewardship
Why is this important?
In Hawthorne, California the police department takes 52% of the city budget. This means that the officers who do not live in our city take their average salary of $111,000/year, buy property in a whiter and wealthier neighboring city, and subsequently add more funding to the schools that already have the most resources.
It is our personal responsibility to refuse enabling Hawthorne Police Department's violence through most of our city's funding. We must demand our city officials to invest in Hawthorne residents by defunding the police.
Example(s):
It was June 7th 2019 that a viral video brought disgrace- once again- to Hawthorne Police Department.
On Prairie and El Segundo, across from Memorial Park where families gather and children play- almost a dozen officers draw their weapons on a young Black 24 year old. The brave woman livestreaming the traumatizing arrest sobs as she begs them not to shoot- and the nation, and our community, felt her pain and fear. That he could be anyone's father, son, brother or friend, but as a Black man in America, he was a target of the oppressive forces of policing. We will never know what would have happened if she was not there, but one thing is certain. This type of escalation for someone Hawthorne Police admitted, "loosely matched" the description of an individual, was definitively not an isolated occurrence- but a product of a city, and country, that enables and militarizes first responders and rarely holds them accountable for the terror they wreak on BIPOC living in the communities they police. We encourage residents of Hawthorne to dig into the 2007 beating, and HPD's fascination with shooting dogs. It is our personal responsibility to refuse to enable any more sociopathic behavior from the heavily funded HPD and demand our city leaders to a clear and understanding decision to invest in Hawthorne residents.