To:

The President and Vice President of the United States and Congress
Make November 14th New Orleans Four Day Nationwide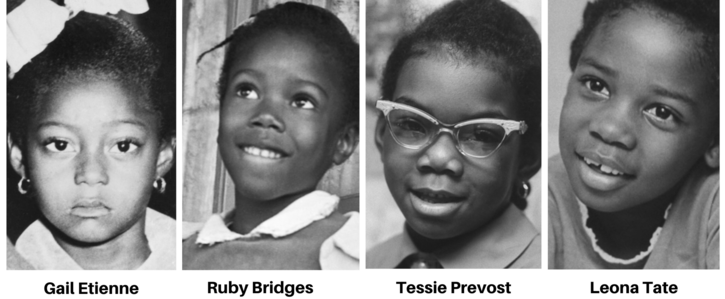 My name is Diedra Meredith, I'm a native/ daughter of New Orleans, and I am a Multimedia Activist in my beloved city. I am launching a call to action for some modern day Freedom Riders to join me in my mission to make NEW ORLEANS FOUR DAY a nationally recognized holiday on NOVEMBER 14TH.
In 2018, I created and launched The New Orleans Legacy Project because I wanted to address the illegitimate revision of a pivotal moment in American Civil Rights history. As a black woman, I feel its my duty to take control of and CORRECT the illegitimate popular narrative about school integration that omits integral facts about the FULL history of the school desegregation crisis in the Deep South; especially as it took place in New Orleans. As part of my mission with this project, I am in the final phase of producing and directing a 3 part docuseries about the New Orleans Four and the New Orleans Resistance Movement. This Petition must be on the move as I work to complete this series.
When it comes to the courageous sacrifice and contributions of The New Orleans Four, I believe you will be proud to celebrate them with a national holiday because those FOUR little black girls rocked this nation and changed the world together! This is my solution to drowning out the Historical Revisionist who want to literally erase our history. Reviving their powerful legacy is crucial now more than ever.
Revisionist History is detrimental to everyone and the omissions and illegitimate revisions of New Orleans' school desegregation crisis was self serving. Therefore, I needed to do the work to undo the historical negation of The New Orleans Four and restore their namesake and courageous spirit back in history where it belongs. With your signatures we can revive their powerful legacy and share it with generations to come.
Brief History
On November 14, 1960, FOUR 6-year-old little girls (Ruby Bridges, Gail Etienne, Tessie Prevost and Leona Tate) became the first African Americans to desegregate all-white public elementary schools in the Deep South. The integration of New Orleans' public elementary schools marked a major focal point in the history of the American Civil Rights Movement.
60th Anniversary Proclaimed New Orleans Four Day by City Council
November 14, 2020, marked the 60th Anniversary of School Desegregation and the City Council of New Orleans honored the four Civil Rights Pioneers with a Proclamation Ceremony at Gallier Hall. On this day, state dignitaries, city officials, judges, US Marshals as well as close family and friends gathered at Gallier Hall.
The City Council of New Orleans proclaimed November 14th NEW ORLEANS FOUR DAY and Mayor LaToya Cantrell honored them with the Key To The City. These ladies waited 60 years to receive this recognition!
Move With Me To Make NOVEMBER 14TH NEW ORLEANS FOUR DAY Nationwide!
On this NOVEMBER 14th Anniversary of 2022, I am launching this CALL TO ACTION Petition to show the President of the United States, Congress and Governors across this nation that I'm not alone in my mission to see national recognition of a day to celebrate America's Little Soldier Girls who rocked this nation and changed the world.
Why is this important?
Segregation is happening all over again in schools across America. Segregation perpetuates the School -to-Prison-Pipeline and we must stop it in its tracks!
The New Orleans Four, at 6-years old served their little black girl magic and showed the world that children can lead the way. These little emissaries were the epitome of what it means to have the audacity of hope. They broke barriers and opened hearts in 1960 and with this nationally recognized holiday they can continue to remind America and the World that we can ALL live, learn and work TOGETHER.
In her speech during the New Orleans Four Day 60th Anniversary ceremony in New Orleans, Alana Odoms (Executive Director ACLU-Louisiana) stated "Since its inception, black girls and black women have shouldered the immense responsibility of perfecting our Democracy. The New Orleans Four were emissaries of justice and freedom, turning the tide of hate in this nation and calling us towards the liberties enshrined in the United States Constitution."
Like Dr. Opal Lee, I believe that this national holiday can be a unifier and an inspiration to children and adults around the world. I believe it can be the bridge that brings people together to talk about the hard issues facing our country.
The New Orleans Four were the light during a dark time in our country's history and their brave acts will always be a beacon of hope to show young people that they have a voice, they have a say and the wherewithal to create the CHANGE they want to see. Let them be the everlasting reminder of Freedom, Equality & Justice.
Learn More: To watch the docuseries teaser and learn more about the project go to www.NewOrleansFourLegacy.com
How it will be delivered
Freedom Riders From New Orleans To Washington!
We are organizing to travel from New Orleans to Washington D.C. by bus and by train for our elder like the Freedom Riders of the Congress of Racial Equality (CORE) did in 1961. My hope is to inspire others to join me on that Freedom Ride to deliver the printed signatures to Congress and to the President of the United States.