To:

D.C Mayor, City Council, Deputy Mayor of Education & State Board of Education
Tell D.C Leaders: We Demand Police-Free Schools!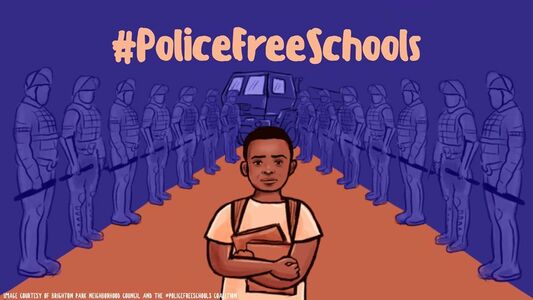 Black Swan Academy (BSA) supports local efforts to defund - divest and demilitarize police in D.C.
We join Black youth across D.C. in demanding POLICE FREE SCHOOLS! We demand city leaders:
DIVEST!!! Remove all forms of police from D.C. schools including DC police officers and security officers contracted through the Metropolitan Police Department.
INVEST!!! in resources that will create a safer, healthier, more equitable school environment.
We Demand:
- A removal of police from D.C. public and charter schools.
- A rejection of the Mayor's proposed $18.5 million increase to the police budget for fiscal year 2021; including the $2.5 million proposed to add additional police in schools.
- An investment of $6 million in the fiscal year 2021 city budget for the expansion of school-based mental health programs and to strengthen the broader mental health infrastructure in D.C.
- An investment of $4.4 million to expand the use of community violence interrupters within schools and the broader community.
- An investment in the continued training of D.C educators to practice social-emotional learning and transformative justice approaches.
- An investment in the well-being and continued development of D.C. educators to reduce the reliance of long-term substitutes and enhance the overall learning experience.
Why is this important?
The same police that are killing Black people in the streets and that continue to harass Black youth in the community, are the same police that are in our schools. We cannot continue to put our youth in harms way! We demand POLICE FREE SCHOOLS! We demand an end to the school-to-prison pipeline. It is simple: Black youth in D.C have been screaming "Love Us. Don't Harm Us"- divest from police in our schools and invest in the social-emotional health and well-being of youth!
D.C is the MOST POLICED jurisdiction in America and Metropolitan Police Department's largest contract is with D.C. Public Schools. MPD currently receives $25 million to police and criminalize our youth! This increases the likelihood that adolescent behavior or responses to trauma will not be met with support but further harm. 74% of Black youth will not get the support they need. Instead:
- Nearly 100% of all school expulsions are of Black youth, nearly 100% of school based arrest are of youth of color
- D.C. police are also responsible for harassing and handcuffing Black youth as young as 9 years old.
- 60% of girls arrested in D.C are under the age of 15.
- Black girls in D.C are 30 times more likely to be arrested than white youth of any gender identity.
- Often girls are disciplined and referred to police for their responses to sexual violence. This creates an unsafe and unwelcoming environment for girls, and compounds the trauma that survivors of gender base violence experience.

Always, but especially now, our Black youth need love, not harm! We need to ensure that our young people have what they need to learn, that our young people have increased access to mental health professionals to address the heightened trauma caused by COVID -19 and, rampant police violence and racism. We need your support to protect Black and Brown youth from further harm and to preserve their right to live and thrive!