To:

We call upon all who agree with us to join with us to end racial and cultural inequity and injustice.
A Call for A Cultural New Deal for Cultural and Racial Justice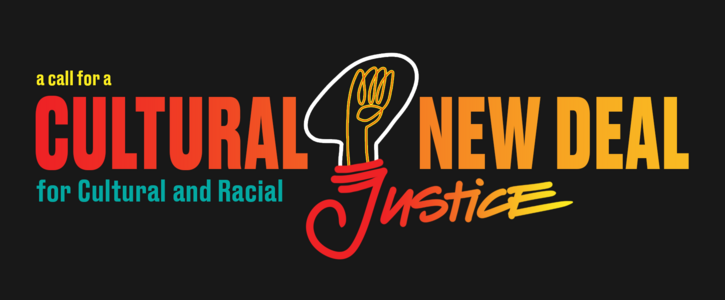 Lea nuestro texto completo en inglés y español en www.culturalnewdeal.com/es // Read our full text in English and Spanish at www.culturalnewdeal.com
Support our five demands.
1. The support, recognition, and prioritization of the leadership of Black people, Indigenous people, and people of color.
2. The reversal of long-term hiring, funding, and resourcing inequities in the arts and culture sector.
3. Investment in arts and cultural ecosystems for Black, Indigenous, and communities of color.
4. Investment in building healthy communities through centering cultural and racial equity.
5. Accountability, commitment, and integrity in the pursuit of cultural and racial justice.
//
Apoyen nuestras cinco demandas.
1. Apoyo, reconocimiento y priorización del liderazgo de personas negras, personas indígenas y personas de color.
2. Revocación de inequidades prolongadas en la contratación, la financiación y el acceso a recursos dentro del sector de arte y cultura.
3. Inversión en los ecosistemas de arte y cultura en las comunidades negras, indígenas y de personas de color.
4. Inversión en desarrollar comunidades saludables mediante centrar la equidad racial y cultural.
5. Responsabilidad, compromiso e integridad con el fin de lograr la justicia cultural y racial.
Why is this important?
The Cultural New Deal for Cultural and Racial Justice is a call for us to transform our personal, institutional, and global thinking. We believe that culture moves before policy. We believe that culture endures beyond politics. We wrote this Call because our work in culture and arts is inextricably linked to larger social movements for change. We invite you to adopt and adapt this Call to your specific contexts to hold leaders, policy-makers, and institutions — and ourselves — responsible, accountable, and transparent in achieving equity and justice.
In these unprecedented times, as justice movements converge, many of us have asked ourselves what the stakes are for the culture we want to advance. We concluded that we needed to change the conditions under which we artists and culture bearers labor and live. The Cultural New Deal for Cultural and Racial Justice points us toward new understandings of how we together can build a culture that is inclusive, sustainable, and leads us toward justice and freedom for all. We urge timetables that are immediate and demonstrate change that is not aspirational, but concrete, measurable and visible within 1-3 budget cycles. We offer this Call in the spirit of advancing accountability and collective responsibility, and urge you to activate these ideas within your work and our shared future.
//
El Nuevo Trato Cultural para la Justicia Cultural y Racial es una convocatoria para que transformemos nuestro modo de pensar personal, institucional y global. Creemos que la cultura cambia antes que la política. Creemos que la cultura perdura más allá de la política. Escribimos este llamado porque nuestro trabajo dentro de la cultura y las artes está inextricablemente entrelazado con los movimientos sociales para el cambio. Les invitamos a adoptar y adaptar este Llamado para sus contextos particulares para responsabilizar a líderes, creadores de políticas e instituciones, al igual que nosotres mismes, por lograr la equidad y la justicia de forma responsable y transparente.
En estos tiempos sin precedentes, conforme convergen los movimientos por la justicia, muches de nosotres nos hemos preguntado qué está en juego para la cultura que queremos avanzar. Hemos concluido que tenemos que cambiar las condiciones bajo las cuales nosotres les artistas y portadores de cultura trabajamos y vivimos. El Nuevo Trato Cultural para la Justicia Cultural y Racial nos dirige hacia nuevos entendimientos sobre cómo, juntos, podemos crear una cultura que es inclusiva, sustentable y que nos lleva hacía la justicia y la liberación para todes. Exigimos cronogramas que son inmediatos y que demuestran un cambio que no es aspiracional y que, más bien, es concreto, medible y visible dentro de 1 a 3 ciclos presupuestarios. Ofrecemos este Llamado en aras de avanzar la transparencia y la responsabilidad colectiva y urgimos que activen estas ideas dentro de su trabajo y dentro de nuestro futuro compartido.