To:

The Community Planning Boards and City Council Members from Brooklyn, NY
CREATE THE "MAJOR OWENS PARKWAY" IN BROOKLYN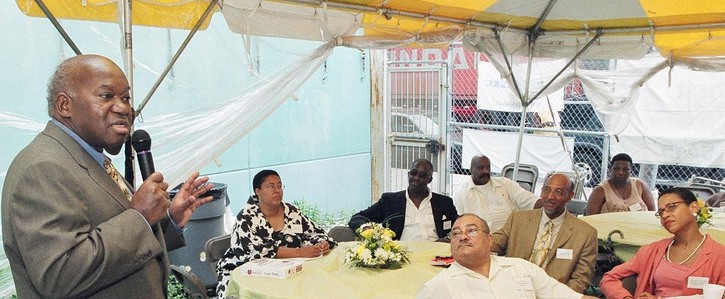 Support the co-naming of Eastern Parkway to the "Major Owens Parkway"!
Why is this important?
The late Congressman Major R. Owens, who succeeded the Hon. Shirley Chisholm, represented Central Brooklyn in the U.S. House of Representatives from 1983 until 2007. Congressman Owens had previously represented Central Brooklyn in the State Senate of New York from 1975 through 1982.
Over his 32 years of elected public service years, Major Owens advocated for the people of Brownsville, Crown Heights, East Flatbush, Flatbush, and Prospect Heights, as well as portions of Boerum Hill, Bushwick, Cobble Hill, Fort Greene, Ocean-Hill, and Park Slope. These were all parts of the 11th and 12th Congressional Districts or the 17th District of the New York State Senate. Congressman Owens' districts also included other neighborhoods to the south, such as Midwood, Madison and a piece of Boro Park.
As a Subcommittee Chair in the U.S. House of Representatives, Major Owens brought millions of new Title I dollars to Brooklyn, helped end the use of coal to heat public schools, and helped create the "e-rate" used to bring Brooklyn schools into the internet age.
Nationally, Congressman Owens was a champion of disability rights, and a leader of the fight for the Americans with Disabilities Act in the House of Representatives. He fought for -- and won -- Federal support of the Historically Black Colleges and Universities (HBCUs) throughout the nation as well as CUNY's Medgar Evers College.
The Congressman was an institution builder in Brooklyn. He started during his days leading Brooklyn CORE and the Brownsville Community Council, then as the leader of all the NYC anti-poverty programs and a coalition-builder in the New York State Senate. During his Congressional years, he was a passionate and legendary advocate for democracy in Haiti, voting rights and reforms, action against guns and gun violence, quality health care, peace action in the Middle East and elsewhere, and so much more.
So why co-name Eastern Parkway?
Originally designed to provide a boulevard for the wealthy, Eastern Parkway traverses the heart of Central Brooklyn and has changed in many ways since Major R. Owens was elected to the New York State Senate in 1974 and started to represent its eastern end. In 1973, Eastern Parkway was the route of the "Major R. Owens Day" parade declared by then-Borough President Sebastian Leone in honor of Owens' successful and strong leadership of all New York City anti-poverty programs as Commissioner of the Community Development Agency under NYC HRA.
Three decades later, Congressman Owens had walked or ridden this Eastern Parkway path in dozens of parades -- from his Congressional office at Utica Avenue (for 24 years) down past his personal residence at 135 Eastern Parkway, just across from the Brooklyn Museum. During this time, the Congressman had also held numerous Town Hall Meetings at the P.S. 167 school building and other locations nearby. By 2007, Congressman Owens had represented all of Eastern Parkway at some point in his political career.
On Friday, June 28th, 2019, Congressman Major Owens was remembered through the dedication of the St. John's Place Post Office (between Troy and Schenectady Avenues) serving the 11213 zip code. With special thanks to U.S. Representative Yvette Clarke and the Brooklyn Congressional Delegation, this honor is greatly appreciated.
This year, the Brooklyn Public Library opened the new Major Owens Welcome Center at its Grand Army Plaza branch at the start of Eastern Parkway, for which we are thankful. Furthermore, just one block off of Eastern Parkway, the new Major Owens Health & Wellness Community Center in Crown Heights is opening this year as well -- and we thank City Council member Laurie Cumbo and Borough President Eric Adams for their support of this project!
Now, please join with the Owens family members and sign this petition so we can take the next step in educating our communities about Brooklyn's history of history-making progressive public servants and recognizing the importance of their contributions. Working together with our local Community Board representatives and our esteemed City Council representatives, let us create the "Major Owens Parkway."
How it will be delivered
Your petition signature will be presented to the Hon. Laurie Cumbo, Majority Leader of the City Council of New York, as well as any other elected officials and government agencies involved with the renaming process.